Suspect in Case of Tourist Missing in Aruba Wins Appeal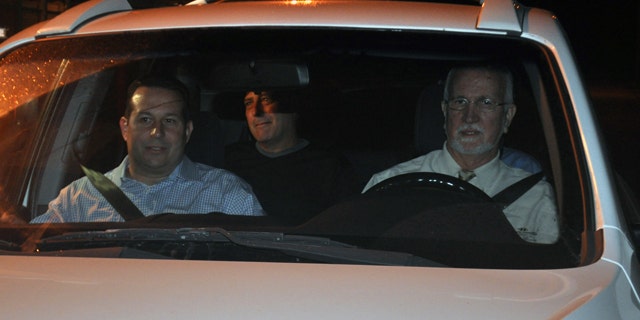 ORANJESTAD, Aruba – A U.S. businessman who spent nearly four months in an Aruban jail before a judge ordered his release scored another legal victory Wednesday when an appeals court rejected a prosecution appeal to put him back in pretrial detention.
Gary Giordano had already left Aruba when the three-judge appeals court panel ruled that prosecutors lacked sufficient evidence to continue holding him as a suspect in the disappearance and presumed death of his traveling companion, Robyn Gardner.
The prosecutor's office said it was disappointed with the ruling, still considers Giordano a suspect and is continuing to pursue the case with the assistance of the FBI.
"While we believe the circumstances warranted his detention, we respect the court's ruling," the prosecutor's office said in a statement.
Prosecutors had said they intended to seek the extradition of the Giordano, a 50-year-old from Gaithersburgh, Maryland, if they had won the appeal. Now, they can only try to bring him back to the island and detain him if they intend to bring the case to trial, said Chris Lejuez, his Aruban defense attorney.
"There are no more appeals," Lejuez said. "If they want him behind bars now they would have to start a court case against him ... They have to charge him and take his case to court and they have years to do that."
The defense attorney said he expects the case will go no further.
"The truth is, as I showed the judges today, there is no evidence whatsoever against him, nothing, zero," he said. "So, I don't think this case will go to court."
Aruban law allows pretrial detention while authorities investigate a crime, but it is subject to a judge's review and the threshold of evidence necessary to hold someone increases as times goes on. A judge ruled last week that prosecutors had not met the requirement and ordered the release of Giordano. He had been in custody since Aug. 5, three days after reporting to police that Gardner disappeared while snorkeling. Her body has not been found.
The case has been compared to that of Alabama teenager Natalee Holloway, who disappeared on Aruba in May 2005 on the last night of her high school graduation trip to the island. Her body was also never found and the prime suspect was detained for months before he was eventually released for lack of evidence.
Authorities in Aruba now seem to face a similar situation, with only circumstantial evidence that a crime was even committed. The prosecutor's office said it would continue to press the case.
"We understand that this will be very disappointing for the Gardner family. We sympathize with them," the office said in its statement. "They can rest assured that we are committed to pursuing this matter to its conclusion, and know our entire government shares that commitment. We will leave no stone unturned in our determined efforts to solve this disappearance and, if the evidence warrants, we will bring the responsible person or persons to justice."
Giordano, a divorced owner of an employment services company, first drew suspicion with what investigators felt were inconsistencies in his account of Gardner's disappearance. Later, they learned he had taken out a $1.5 million accidental death policy on her, which the prosecutor's office said was viewed as a possible motive.
Gardner's friends and family also had doubts about her disappearance, saying it was unlikely the 35-year-old woman from Frederick, Maryland, would have gone snorkeling in the first place.
Giordano was released from jail on Tuesday night and took the first flight to the U.S. He flew to Miami and then headed to New York's John F. Kennedy International Airport in the company of his U.S. attorney, Jose Baez, who won an acquittal for Florida mother Casey Anthony in her murder trial earlier this year.
His immediate plans were unknown but his attorneys had said he was eager to rebuild his life and spend time with his family after nearly four months in jail. He has denied any wrongdoing and said that Gardner, a 35-year-old from Frederick, Maryland, was swept out to sea while they were snorkeling in the late afternoon Aug. 2 off the southern tip of Aruba.