Survivor, 2 bodies from migrant boat wreck arrive in Spain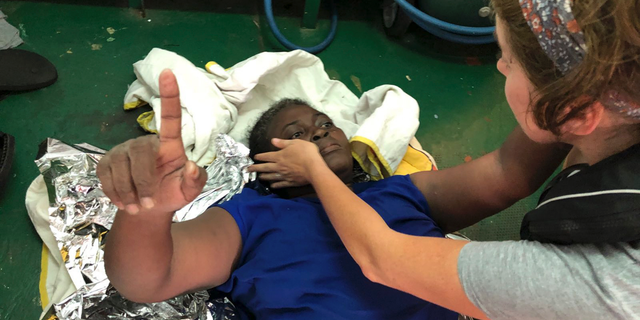 NEWYou can now listen to Fox News articles!
BARCELONA, Spain – A survivor of a capsized migrant boat brought to the Spanish island of Mallorca along with two bodies from the wreck has been transferred to a hospital for trauma treatment, Spanish authorities said Saturday.
A rescue boat operated by Spanish aid group Proactiva Open Arms had found the Cameroonian woman along with the bodies of a toddler boy and another woman in the Mediterranean Sea. The aid group accused Libya's coast guards of abandoning the three on Tuesday after intercepting some 160 Europe-bound migrants.
Video posted by the group showing the floating bodies and the rescue of the woman caused outrage across Europe.
Proactiva Open Arms director Oscar Camps said the two women and the toddler had refused to board Libyan vessels with the rest of the migrants and were left behind.
The Open Arms vessel docked in Palma, Mallorca earlier Saturday after a four-day journey across the Mediterranean. It was accompanied by its sister ship Astral.
The group said the surviving woman will receive medical treatment for physical and psychological trauma in the hospital.
The woman, identified only as "Josefa," told a journalist onboard the rescue vessel that the migrants had been at sea for two days and two nights.
It wasn't clear how many others from the woman's boat survived on their way back to Libya.
The rescuers had refused to dock in Italy, saying they didn't trust how Italian authorities would handle an investigation into the wreckage. Rome and the European Union have trained and financed the Libyan coast guard to halt the flow of migration.
The country's populist interior minister Matteo Salvini has repeatedly denied entry to aid ships rescuing migrants in the Mediterranean Sea, including Open Arms, and referred to the group's claims and account of their rescue operation as "lies and insults."