Surveillance video shows suspects leaving apartment where Mexican journalist was killed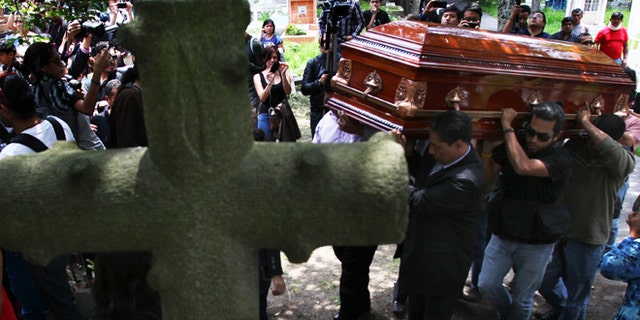 NEWYou can now listen to Fox News articles!
MEXICO CITY (AP) – Prosecutors released a surveillance video Tuesday showing suspects calmly leaving an apartment building where five people were found tortured and shot to death, including a photojournalist who had taken refuge in the capital after feeling threatened in the Mexican state he covered.
The video, stamped just after 3 p.m. Friday, shows one man with a roller suitcase walking away and another getting into a red Ford Mustang and driving away. A third suspect is seen crossing the street five minutes later. All three walk normally, and the driver of Mustang takes his time pulling out.
Mexico City Prosecutor Rodolfo Ríos Garza said the three men are the prime suspects in the killing of journalist Rubén Espinosa, cultural promoter Nadia Vera and three other women, including a domestic employee. All were found tied up and with gunshot wounds to the head. Espinosa showed signs of torture, and some of the women appeared to have been sexually abused, officials have said.
In June, Espinosa had fled the Gulf coast state of Veracruz, where 11 journalists have been killed since 2010, after he was followed and harassed by strangers waiting outside his house. Once in Mexico City, he still didn't feel safe, telling friends that strangers approached him on two different occasions asking if he was the photographer who had left Veracruz.
Espinosa knew Vera from Veracruz, where she was an outspoken activist and organizer critical of the state government of Gov. Javier Duarte. In an earlier video interview, Vera said Duarte and his Cabinet were responsible for "anything that could happen to us as people involved in and organizers" of the protest movement.
When asked if Duarte would be called to give a deposition, Rio said Mexico City officials were in contact with him and his attorney general.
But officials appeared to be focusing on robbery and a female victim thought to be Colombian as its target, even as they repeated a commitment made Monday that they are not discounting any motive or line of investigation.
Ríos said the crime was committed sometime before 3 p.m. Friday, though he did not say when the suspects arrived at the apartment.
The killers would have had only a half hour to 50 minutes to torture and shoot five people, ransack the apartment and pack a suitcase with stolen goods, according to witnesses who spoke to The Associated Press.
Espinosa was last heard from in a text message to a friend at 2:13 p.m., saying he was leaving the apartment to return home.
A neighbor in the next building said he saw one of the victims, the woman believed to be Colombian, on the street at 2:30 p.m. talking normally with one of the men who later entered the building and left.
The prosecutor's office said it had nothing to add when asked about the tight time frame.
The Mustang was found abandoned in the southern part of the capital Monday.
Ríos said investigators were trying to reach the registered owner, but he believed the car was being used by the apparently Colombian victim, though she has not officially been identified as a citizen of that country.
Officials have not released any of the victims' names apart from Espinosa and Vera.
Their bodies were found in Vera's apartment around 9 p.m. Friday by a roommate who had left that morning to go to work.
Ríos said Espinosa and another friend had arrived at the apartment around 2 a.m. Friday with Vera. He said they stayed up all night and went to sleep around 6 a.m. The housekeeper came about 9 a.m. During that time, Espinosa's friend, who has not been identified, left the apartment as did Vera's roommate.
The suspects are seen leaving the building at 3:02 p.m.
"It is during this time that the killings occurred," Ríos said.