Striking Greek Cabbies Step Up Blockades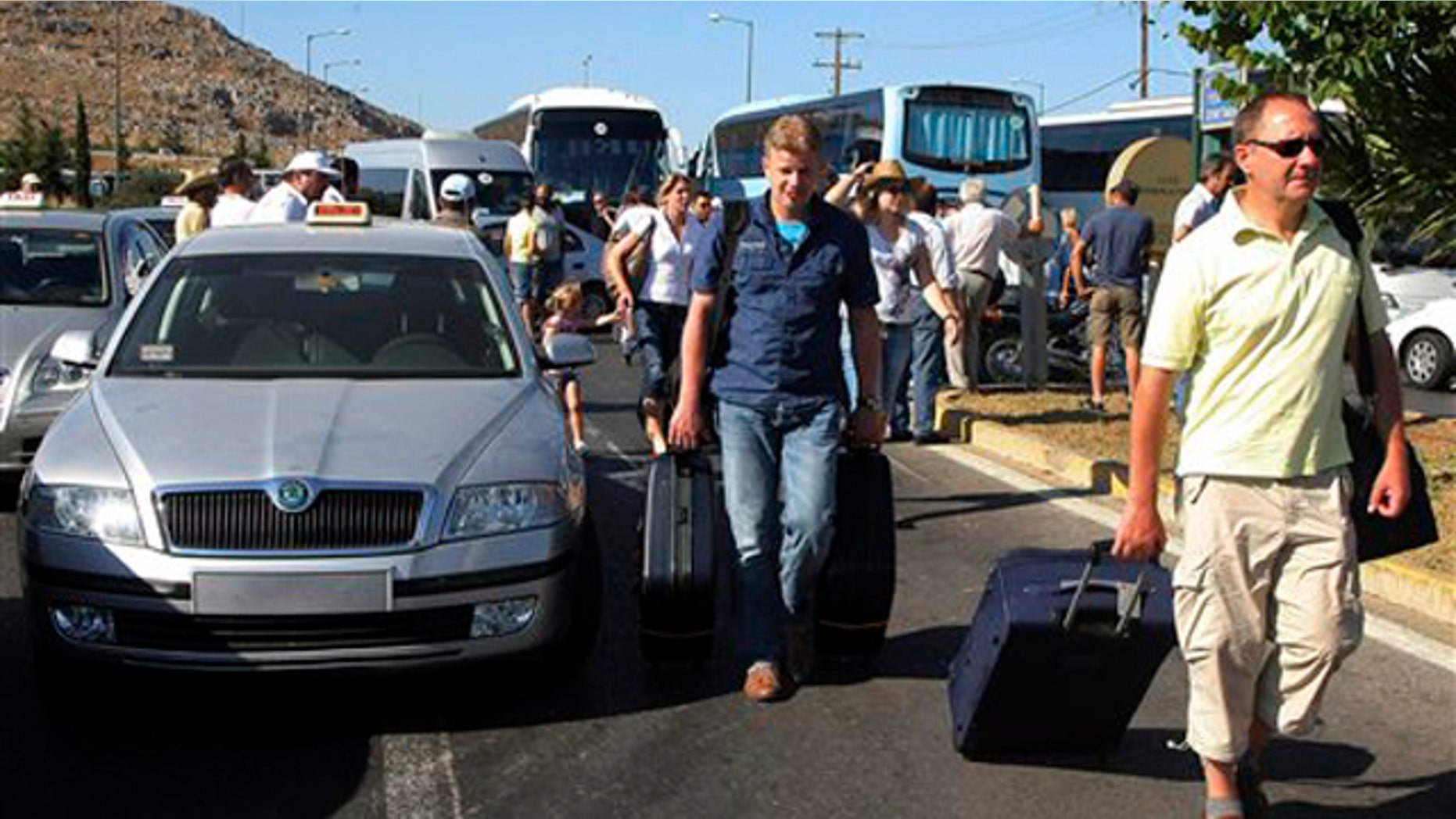 Striking Greek taxi owners stepped up protests Monday, blockading highways and a busy regional airport, after fresh negotiations with the government on new licensing laws collapsed.
The 16-day strike has prompted warnings from the country's tourism industry and the Socialist government, as it battles the country's financial crisis. But protest organizers vowed to continue.
On Monday, taxi drivers blocked a highway in southern Greece as well as roads to Iraklio international airport on the holiday island of Crete, forcing tourists to walk to the site.
Motorists were forced to take boats from the southern Peloponnese region to the mainland, after taxi drivers blocked the RioAntirrio toll-bridge, severely disrupting traffic. Cabbies also blocked access to the main port on the island of Corfu.
The government signaled plans to take a tougher line against the protesters.
"Every professional group has the right to make demands. But no one has the right ... to close highways, ports and airports," Public Order Minister Christos Papoutsis said, heading an emergency meeting of the police's leadership, reportedly to draw up plans to deal with the taxi protest.
"This (protest) is preventing the country from functioning properly and the economy from functioning properly at such a difficult time."
Thymios Lymberopoulos, head of protesting greater Athens Taxi Owners Association, said his members would surround the Transport Ministry in Athens for 48 hours.
"They are not giving us a chance to take even one step back," Lymberopoulos told protesters over a loudspeaker after meeting Transport minister Yiannis Ragoussis.
"They are creating an atmosphere of tension that no one will be able to control. But we will proceed."
Taxi owners are angry at plans to open up their profession to more competition as part of business licensing reforms in the crisis-hit country. They argue that taxi owners will unfairly lose the money they invested buying licenses -- around euro100,000 ($142,500) -- when the changes take effect.
"I got into debt so I could get a license and support my family and now Ragoussis wants to take it all away," protesting taxi driver Yiannis Papagelis said.
The reforms have been demanded by European Union countries and the International Monetary Fund, as part of austerity measures required to pay out rescue loans worth more than euro110 billion ($157 billion).
The government has failed to reach its deficit-reduction goals in 2011, hurt by weak tax-collection revenues. Finance Minister Evangelos Venizelos said Greece was determined to meet its fiscal targets this year.
"The reforms we have announced will be implemented and the targets we have made remain unchanged ... because this is vital for the country," he said.
Spyros Ginis, deputy chairman of the Greek Tourism Enterprises Association, said the taxi strike was hurting the industry in high season.
"You can't have one part of society pointing a gun at another," Ginis told private Skai television.
"Tourism is the only sector that is doing well at the moment in the Greek economy and it distributes wealth to every part of the country," he said. "So this protest is really not helping."