Spanish sailors allegedly smuggled cocaine to NY on famed naval tall ship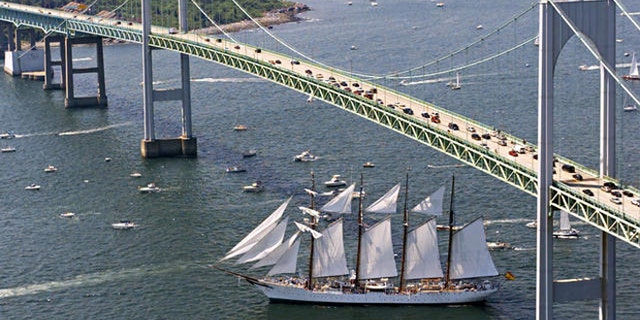 Six members of the Spanish Navy were acting more like pirates when they allegedly used a naval tall ship to smuggle 31 kilograms of cocaine from Colombia to New York City.
A military judge in Spain indicted the six sailors and the civilian cook on the "Juan Sebastián de Elcano" – a four-masted topsail, schooner used for training since 1927 – for purportedly "having taken advantage of the absence of a customs check of the ship when it docked at international ports […] to allegedly participate in cocaine trafficking from Cartagena to New York, where they were to receive payment from the local supplier for the smuggled drugs," Spain's El País newspaper reported.
The civilian cook, Manuel Francisco Sirvente Prius, alias "El Naca," is believed to have been a contact for Colombian drug traffickers and allegedly introduced the sailors to Joaquín Pernett Zapatero, alias "Mondongo," when the tall ship made call at the Colombian city of Cartagena in April 2014.
Pernett Zapatero purportedly gave the sailors a total of 31 kilograms of cocaine – which earned them $64,000 for a safe delivery to New York – and one of the sailors was also given $1,000 upfront to hide the cocaine in the ship's waste plant.
The cook was also given an extra $1,000 to threaten two sailors, who pulled out of the deal when they arrived in the U.S. – telling them "their [physical] integrity was in danger" if they didn't deliver.
The drug running scheme was uncovered in two separate investigations by the U.S. Department of Homeland Security and the Drug Enforcement Administration in 2014 into local dealers in the New York metro area, who admitted to having received the drugs from the crew members.
While the current indictment only pertains to the 31 kilograms taken from Colombia in 2014, the drug operation appears to be much larger than just a onetime run. In June of 2014, Spanish authorities announced the discovery of 127 kilos of cocaine aboard the "Juan Sebastián de Elcano" and there allegedly were also plans to traffic between 300 and 400 kilos of drugs the following year during the military ship's crossing.