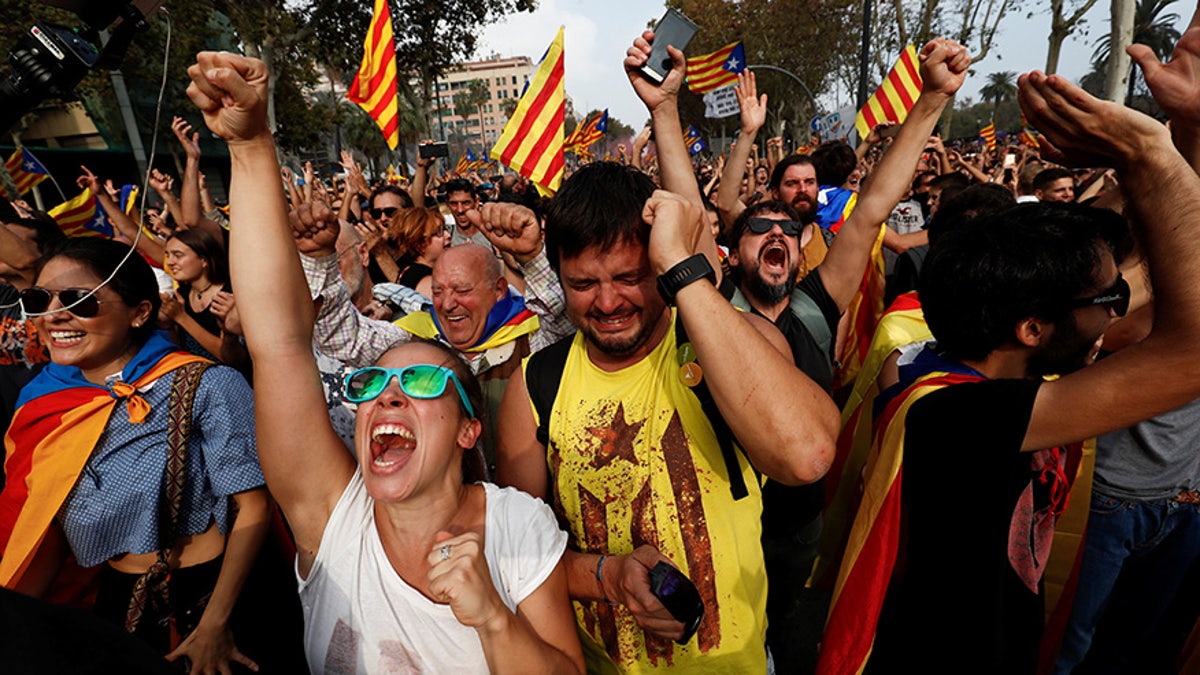 Spanish Prime Minister Mariano Rajoy announced Friday that he is firing Catalonia's government and dissolving the regional parliament after it declared independence from Spain in a disputed vote.
Rajoy said his government would call for a new regional election to be held on Dec. 21. The prime minister also said he would fire the head of the Catalan regional police, shut down Catalonia's foreign affairs department and dismiss its delegates in Brussels and Madrid.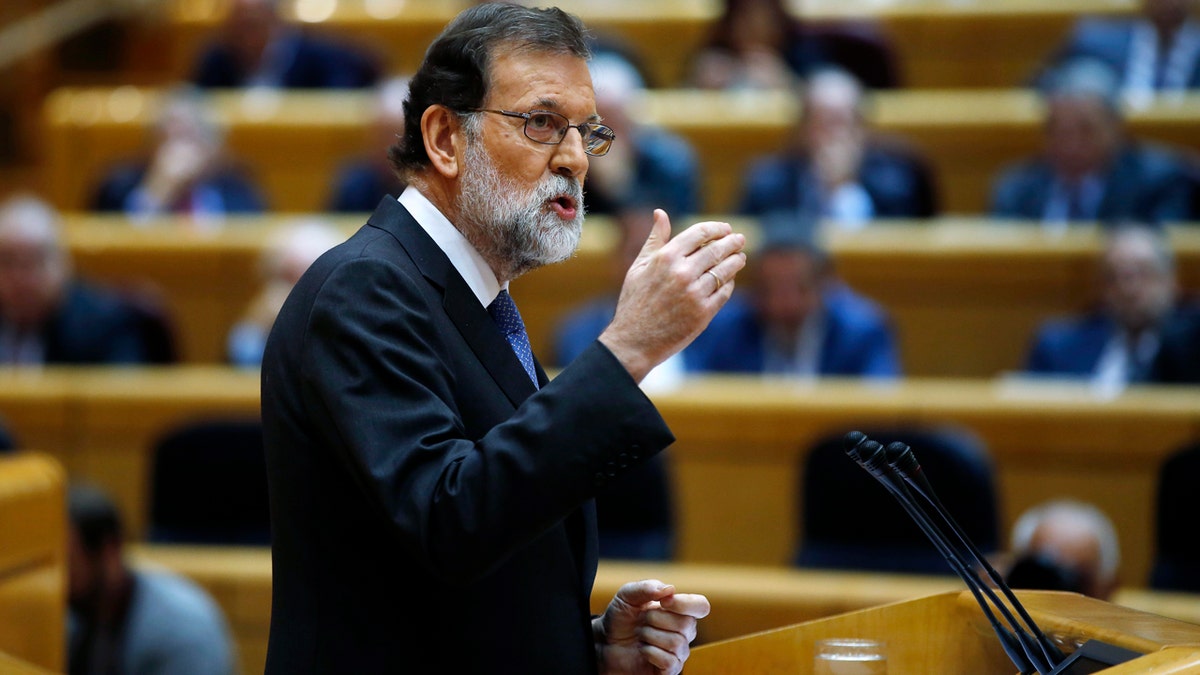 "Today, the Catalonia parliament has approved something that in the opinion of a large majority of people not only goes against the law but is a criminal act," Rajoy declared.
Rajoy's actions are likely to be seen as a humiliation and a provocation by Catalans. A backlash is anticipated, with street protests planned for Sunday, while regional government workers could follow a policy of disobedience or non-cooperation.
In Barcelona, crowds celebrating the regional parliament's vote greeted Rajoy's announcement with loud jeers and whistles, as well as shouts of "we are not moving!"
Separatist lawmakers approved a motion to establish an independent Catalan Republic with 70 votes in favor, 10 against and two blank ballots. It calls for beginning an independence process that includes drafting Catalonia's new laws and opening negotiations "on equal footing" with Spanish authorities to establish cooperation.
"Today the parliament fulfilled the long-desired and fought-for step ... in the days ahead we must keep to our values of pacifism and dignity. It's in our, in your hands, to build the republic," Catalan President Carles Puigdemont said afterwards.
In Madrid, a majority of senators gave Spanish Prime Minister Mariano Rajoy the go-ahead to apply unprecedented constitutional measures, known as Article 155. The Senate of Spain's action trumped the local parliament's independence vote, which was a symbolic act that is doomed because Spain's Constitutional Court is almost certain to disallow it.
Speaking outside the senate, Rajoy said what happened in Catalonia was "proof" that invoking Article 155 was "necessary." He called the parliament's independence vote "illegal" and a "delinquent act."
In a tweet soon after the results were announced, Rajoy called for "tranquility" in the Catalan region and promised "the rule of law will restore legality."
Spain's central government opposes the independence bid and it is readying measures to take over control of the northeastern region. No country has expressed support for the secession bid.
The U.S. State Department said Friday it stands in support of Spain's government in its efforts to stop Catalonia's independence bid.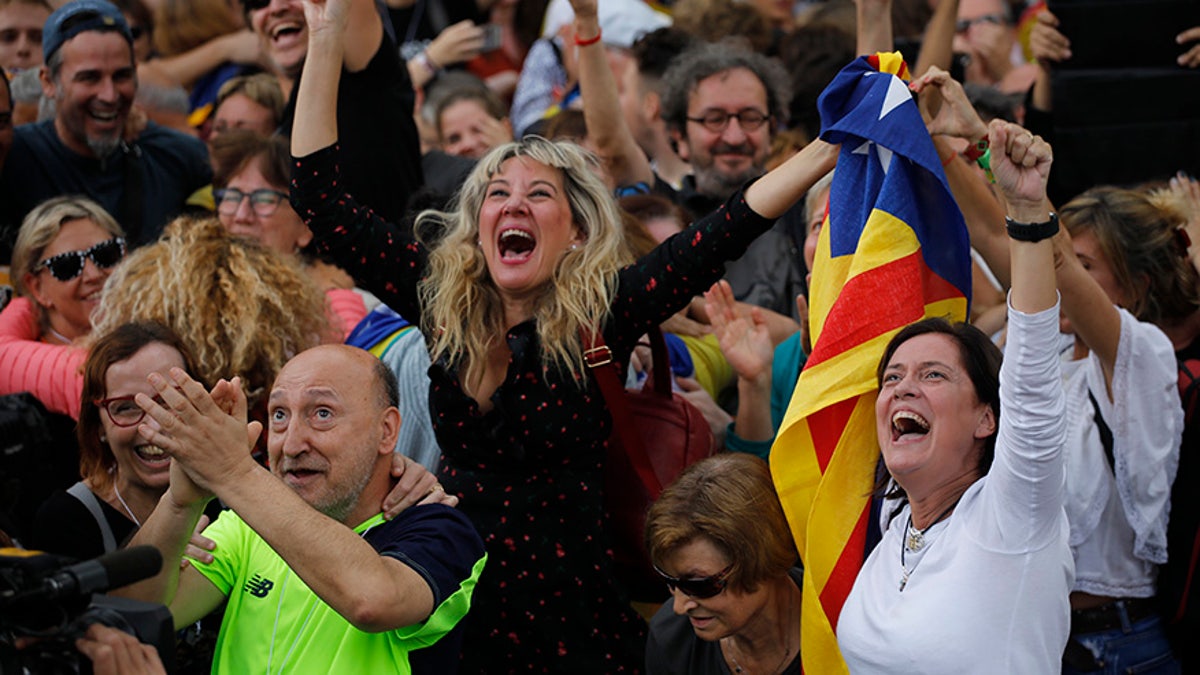 "Catalonia is an integral part of Spain, and the United States supports the Spanish government's constitutional measures to keep Spain strong and united," spokeswoman Heather Nauert said.
European Council President Donald Tusk said it would continue to only deal with Spain.
"For [the EU] nothing changes. Spain remains our only interlocutor. I hope the Spanish government favors force of argument, not argument of force."
A spokesman with Spain's prosecutor office, meanwhile, said the prosecutor would seek rebellion charges for those responsible for the Catalan independence vote.
The prosecutor was looking to determine if only the Catalan cabinet, including Puigdemont and Junqueras, will be charged, or if the target that would also include members of the parliament's governing board and lawmakers, the spokesman said on condition of anonymity following internal rules.
He said the charges could be brought as early as Monday.
Under Spanish criminal law, rebellion can be punished by up to 25 years in prison, with shorter penalties if the rebellion doesn't lead to violence.
The 1978 Constitution, drawn up after the end of Gen. Francisco Franco's decades-long dictatorship, created a decentralized Spanish state that devolved power to 17 autonomous regions, including Catalonia. The regions have broad administrative and legal powers. The Spanish Constitution, however, also describes Spain as "indivisible."
Catalonia has its own cultural traditions and its own language. Having long seen themselves as different from Spain, the Catalan drive for independence began in 2010 when the Constitutional Court struck down key parts of a groundbreaking charter that would have granted Catalonia greater autonomy and recognized it as a nation within Spain.
Catalonia represents a fifth of Spain's gross domestic product and many want the tax revenues generated by the industrious region to remain at home.
However, recent polls suggest the region of 7.5 million people is roughly evenly split on secession and some Catalans strongly oppose independence.
The Associated Press contributed to this report.