South Korean Trade Minister Defends Deal With U.S.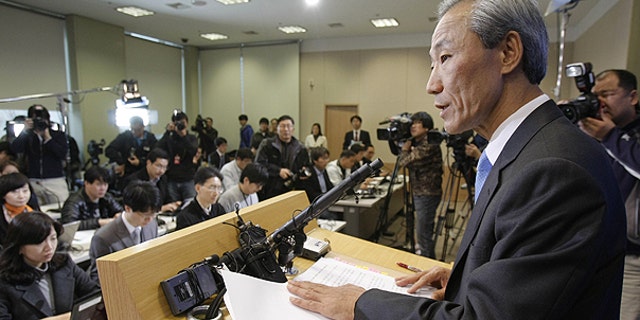 SEOUL, South Korea – SEOUL, South Korea -- South Korea's top trade official defended a hard-fought compromise with the United States to salvage a stalled free trade agreement, rejecting accusations that his government gave up too much to seal the deal.
Trade Minister Kim Jong-hoon and U.S. Trade Representative Ron Kirk reached a final agreement Friday after four days of negotiations focusing on U.S. demands that South Korea rework the accord to address its big trade surplus in automobiles.
The South Korea-U.S. free trade agreement was originally signed in June 2007, but steps to ratify it stalled amid changes in government in both countries, the global financial crisis and American demands that South Korea take steps to reduce their imbalance in auto trade and ease restrictions on imports of American beef.
South Korea, which long said it would not budge on the initial deal, ultimately compromised and addressed key U.S. concerns on cars, though it also received benefits in return such as a two-year delay in the elimination of its tariffs on American pork. Beef was not included in the deal.
"I cannot agree with some views that (the agreement was the result) of our unilateral concession," Kim, the trade minister, told reporters Sunday, calling it a "win-win" deal.
Kim returned to South Korea on Saturday after participating in the talks near Washington. Before becoming trade minister he was South Korea's chief negotiator for the original agreement.
The pact, which requires approval by the U.S. Congress and South Korea's National Assembly, is the largest for the U.S. since the North American Free Trade Agreement with Canada and Mexico in 1994.
Among key provisions of the revised deal, Seoul would allow the U.S. to lift a 2.5 percent tariff on South Korean passenger cars four years after the agreement takes effect, instead of immediately. South Korea, meanwhile, would halve its tariff on U.S. cars to 4 percent from 8 percent and eliminate it after four years. Also, each U.S. automaker would be able to export up to 25,000 cars to South Korea as long as they meet U.S. safety standards. U.S. vehicle exports beyond that figure would have to meet South Korean safety standards. Disputes over safety standards had stood as a barrier to U.S. auto exports to South Korea.
Figures compiled by auto industry groups in South Korea show that it exported 449,403 vehicles to the U.S. last year, while South Koreans purchased 6,140 vehicles made by American manufacturers, based on vehicle registrations.
The South Korean figures do not include the some 200,000 vehicles sold in the U.S. last year by Hyundai Motor Co. that were made at its American plant nor the more than 100,000 sold in South Korea by GM Daewoo Auto & Technology Co., the South Korean unit of General Motors Co.
The Korea Automobile Manufacturers Association welcomed the agreement, saying it eliminated uncertainties in the U.S. market and that South Korean automakers were forecast to increase their market share, Yonhap news agency reported.
The new agreement, however, does not address South Korean restrictions on American beef. The U.S. has sought greater access to the market in South Korea, which imposes controls on shipments of U.S. meat from older animals over fears of mad cow disease.
The renewed push to move the deal forward came after talks last month in Seoul between President Barack Obama and his South Korean counterpart Lee Myung-bak failed to achieve a breakthrough.
Last week's negotiations also took place after a deadly North Korean artillery barrage on a small South Korean island, though Kim said the attack did not affect the talks and that he engaged in them completely from an economic point of view.
Hours before Kim spoke in Seoul, Obama praised the deal as a landmark agreement that promises to boost the U.S. auto industry and support tens of thousands of American jobs.
"This agreement shows the U.S. is willing to lead and compete in the global economy," he told reporters Saturday at the White House, calling it a triumph for American workers.
The breakthrough can be seen as an achievement for Obama, who has drawn criticism over the slow U.S. economic recovery and stubbornly high unemployment rate. He had long criticized the original deal as being bad for the U.S.
South Korea's president, meanwhile, has drawn flak at home for an allegedly weak and indecisive response to the North Korean artillery attack. His government has come under further scrutiny over the trade deal, with opposition parties seeing it as a capitulation to Washington.
Lee Chun-seok, spokesman for the main opposition Democratic Party, accused the government of making "massive concessions against our national interests," his party said. "We cannot find the principle of reciprocity anywhere in the agreement."
Protesters, including Kang and other opposition lawmakers, shouted slogans and held up signs Sunday in central Seoul criticizing the president and his policies. Police said the crowd numbered about 2,200 and the protest was peaceful.
__
Associated Press writers Hyung-jin Kim in Seoul and Erica Werner, Julie Pace and Ken Thomas in Washington contributed to this report.