South Korea to Get Tough on Illegal Chinese Fishermen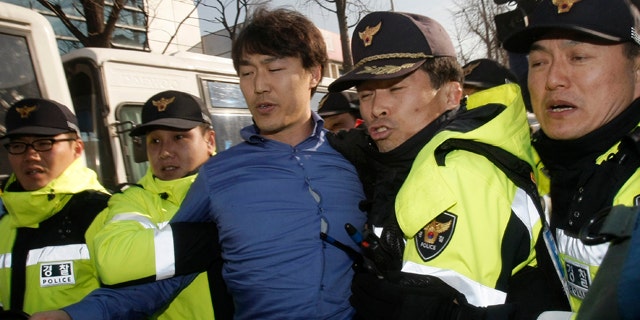 SEOUL, South Korea – Angry South Koreans slammed Chinese fishermen as "pirates" Tuesday, while President Lee Myung-bak vowed to spend more on policing the country's waters after a Chinese boat captain allegedly stabbed a coast guard officer to death.
During a protest at the Chinese Embassy in Seoul, a right-wing demonstrator rammed his SUV three times into a police bus guarding the building while others defaced a Chinese flag. A popular South Korean Internet post called for the shelling of illegal Chinese fishing boats.
The anger came a day after officials said the Chinese captain of a boat suspected of illegally fishing in South Korean waters killed one coast guard officer and wounded another.
The JoongAng Ilbo daily newspaper called the fishermen "pirates" in a front-page headline, and the Chosun Ilbo newspaper said in an editorial that the coast guard should have more ships at its disposal and be more forceful in the fight against heavily armed fishermen.
President Lee told a Cabinet meeting that South Korea will get tough on illegal Chinese fishermen, according to the presidential Blue House office. Lee's possible visit to China next month may also be reconsidered if the case is not smoothly resolved, a Blue House official said, speaking on condition of anonymity because of the sensitivity of the matter.
Police say they've asked for a warrant to extend the detainment of the Chinese boat captain.
South Korea asked China's ambassador just last week to try to rein in illegal Chinese fishing. On Monday it lodged a strong protest with the diplomat over the latest incident.
Chinese Foreign Ministry spokesman Liu Weimin on Tuesday expressed regret for the officer's death, though the apology glossed over Seoul's accusations that the captain fatally stabbed the South Korean officer.
Asked at a daily media briefing whether China would compensate the dead officer's family, Liu said the Chinese government is working with South Korea "to investigate and verify the situation."
He said China is ready "to settle relevant issues."
Monday's deadly incident has touched off predictably angry sentiments among some Chinese, who accused South Korean authorities of bullying behavior.
Officers from two South Korean coast guard ships boarded the fishing boat Monday over suspicions it was illegally operating in Yellow Sea waters rich in blue crabs, anchovies and croaker, when the captain attacked with a knife, coast guard officials said.
Ahn Sung-sik, a South Korean coast guard investigator, told reporters that the captain denies using violence.
Last week, South Korean authorities raised fines levied on foreign fishing vessels caught operating in Seoul's self-declared exclusive economic zone, an apparent reflection of the government's impatience with a rising number of Chinese boats found fishing in the waters.
The coast guard says it has seized about 470 Chinese ships for illegal fishing in the Yellow Sea so far this year, up from 370 last year. The coast guard usually releases the ships after a fine is paid, though violence occasionally occurs.
Chinese fishing fleets have been going farther afield to feed growing domestic demand for seafood.
With some 300,000 fishing vessels and 8 million fishermen, the Chinese fishing industry is by far the world's largest, producing an annual catch in excess 17 million tons. But catches have decreased in waters close to China's shores, forcing the fleet to venture farther.
In 2008, one South Korean coast guard officer was killed and six others injured in a fight with Chinese fishermen in South Korean waters.