Source: Americans stranded on US bases in Kuwait free to leave posts without facing arrest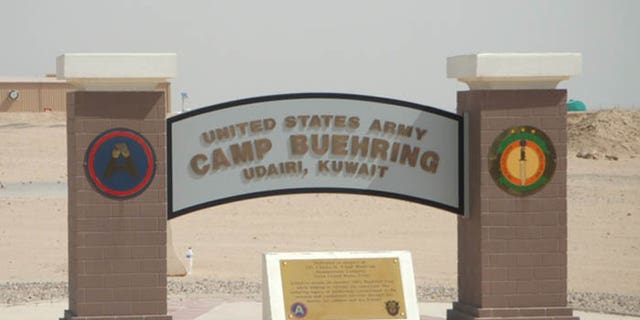 At least 100 American citizens trapped for months on two U.S. bases inside Kuwait are now free to leave their posts without the threat of being detained and jailed by local police, a source on one of the bases told FoxNews.com.
Kuwaiti authorities unjustly issued warrants for the arrest of the Americans, who worked as Arabic translators for U.S. Defense contractor, Global Linguist Solutions, after their employer ended a lucrative deal with its sponsoring Kuwaiti subcontractor, Al Shora International General Trading & Contracting, and signed on with another company.
When the contract ended Feb. 17, Al Shora refused to transfer the employees' visas to the new Kuwaiti subcontractor and falsely accused the Americans of being "runaways and absconders," Charles Tolleson, president of Global Linguist Solutions, told FoxNews.com last month. His company has barred workers from leaving the bases since May 31 to protect them from arrest and imprisonment.
Following FoxNews.com's June 18 report on the ordeal, the U.S. Embassy in Kuwait as well as the U.S. and Kuwaiti armies intervened in the matter. According to an American who was trapped at Camp Buehring, "We are now moving free and safe."
"We already started the process last week to be totally free and safe to leave the country," said the source, who spoke to FoxNews.com on condition of anonymity.
The State Department was not immediately available for comment when contacted Wednesday. U.S. Rep Jason Jason Chaffetz, R-Utah, who had previously reached out to sources on the base, said he was "relieved this issue looks to be working itself out."
"It's always concerning anytime Americans are stuck overseas," Chaffetz said Wednesday.
The source said a meeting was held June 21 with the linguists and representatives from GLS, the U.S. Embassy, and the U.S. and Kuwaiti armies. The owner of Al Shora, identified as Riham Al Jawly, also attended the meeting,
"Riham delivered a long speech and expressed her readiness to assist in resolving the problem," the source said. "She explained her side of the story, and she promised to start as soon as possible processing all of us to clear and release us from the Al Shora sponsorship. She expressed her willingness in canceling the warrant of arrest, clear our names in all ministries, and removing the ban."
Sources told FoxNews.com Al Shora's managing director is the sister-in-law of the Kuwaiti prime minister. One of the Americans trapped on the base claimed the woman "cancelled all of our visas here, so we became illegal," after Global Linguist Solutions terminated its contract with Al Shora.
Camp Buehring is in the Kuwaiti desert, about 25 miles south of the Iraqi border. Other employees of Global Linguistics were similarly stuck at Camp Arifjan, another U.S. Army base inside Kuwait.
Al Shora had demanded $22 million from Global Linguistics in order to transfer the employees' visas to the new company, Kuwaiti Resources House, sources said. Under Kuwaiti law, foreigners cannot work in the country unless they are under the sponsorship of a private Kuwaiti company.
After his company re-bid its contract several months ago and opted to chose the new Kuwaiti company, "Al Shora basically embarked on a campaign to destroy my company," Tolleson said.
At least three of the linguists had reportedly spent seven days in a crowded, filthy jail after being caught outside their base. Majdi Abdulghani was detained by police May 9, as he prepared to board a plane on an approved trip to Jordan to visit his sick mother, according to the military newspaper Stars and Stripes, which first reported on the contract dispute. Abdulghan spent seven days in jail before being flown back to the U.S.