Slow-moving Typhoon Koppu slams into northern Philippines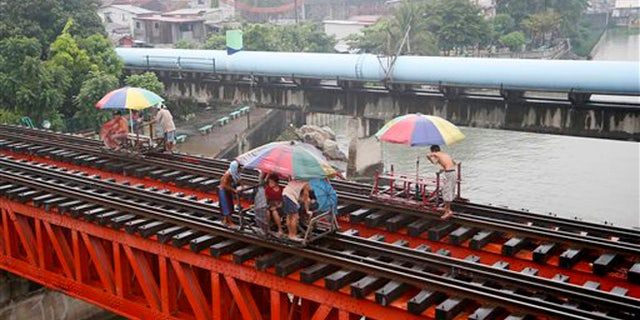 MANILA, Philippines – Slow-moving Typhoon Koppu blew ashore with fierce wind in the northeastern Philippines early Sunday, toppling trees and knocking out power and communications. Officials said there were no immediate reports of casualties.
Thousands of villagers have been evacuated in the typhoon's path, including in towns prone to flash floods and landslides and coastal villages at risk from destructive storm surges, officials said.
After slamming into Casiguran town in Aurora province shortly after midnight, the typhoon weakened slightly and slowed considerably, hemmed in by the Sierra Madre mountain range and a high pressure area in the country's north and another typhoon far out in the Pacific in the east, government forecaster Gladys Saludes said.
The center of the storm was moving west at a speed of just 3 kilometers per hour (5 mph), slow for a typhoon, she said.
"It has slowed almost to a crawl. We're hoping it would speed up and spare us sooner," said Alexander Pama, who heads the government's main disaster agency that has overseen evacuation and pre-deployment of rescue contingents.
President Benigno Aquino III and disaster-response agencies have warned that Koppu's rain and wind may potentially bring more damage with its slow speed. But Saludes said there was less heavy rain than expected initially in some areas, including in the capital, Manila, but wind was fierce in many regions.
A wayward barge carrying coal and 10 crew drifted dangerously close to a breakwater in Manila Bay near a seaside boulevard and a coast guard tugboat was deployed to tow it away, coast guard spokesman Armand Balilo said.
Koppu was whirling over Aurora with sustained winds of 175 kilometers (109 miles) per hour and gusts of up to 210 kph (131 mph). It was slightly stronger before it hit land, Saludes said.
Forecasters said the typhoon has a cloud band of 600 kilometers (372 miles) and could dump rain over much of the main northern island of Luzon.
Appearing on nationwide television as the typhoon approached the country, Aquino appealed to the public to heed storm warnings to avoid casualties. Due to the expected massive evacuation of residents from high-risk regions, about 7.5 million people would need relief assistance, he said.
Koppu, Japanese for "cup," is the 12th storm to hit the Philippines this year. An average of 20 storms and typhoon each year batter the archipelago, one of the world's most disaster-prone countries.
In November 2013, Typhoon Haiyan, one of the most ferocious storms on record to hit land, barreled through the central Philippines, leveling entire towns and leaving more than 7,300 dead or missing.