Singapore's Lee learns to 'fist bump'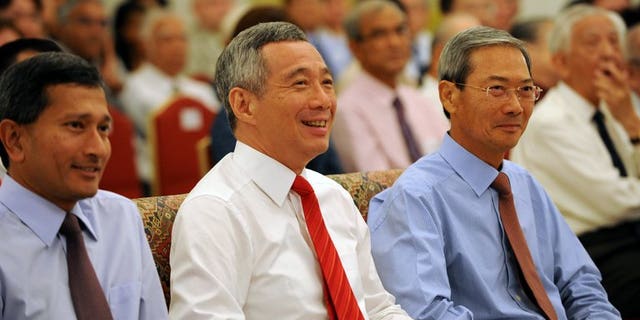 SINGAPORE (AFP) – Singapore Prime Minister Lee Hsien Loong's efforts to connect with younger voters may finally pay off after a photo of him doing his first fist bump went viral on Facebook.
The photograph circulating on the popular social networking site on Friday showed a gleeful-looking Lee performing the greeting with a young woman at a youth forum.
"Huh, fist what?" Lee asked when asked by Jasmine Yeo if he would go through the ritual with her, according to the woman's account of their encounter on her Facebook page.
Yeo said she explained to Lee the intricacies of the greeting: bumping fists then slowly pulling them away while making a "psssshhh" sound.
Lee, 61, did not make the sound on his first attempt so she told him he must try again.
The prime minister asked if he could use his left hand, she said, and the next attempt was a success.
"Maybe next time I can use this to greet people when I meet them," Yeo said Lee told her.
"This will definitely be a moment to remember. Am really happy that the PM is so willing to entertain my nonsensical request," Yeo wrote.
The fist bump -- a signature move of United States president Barack Obama -- is said to have originated on American inner city basketball courts as an alternative to high-fives.