Serbian president meets convicted war criminal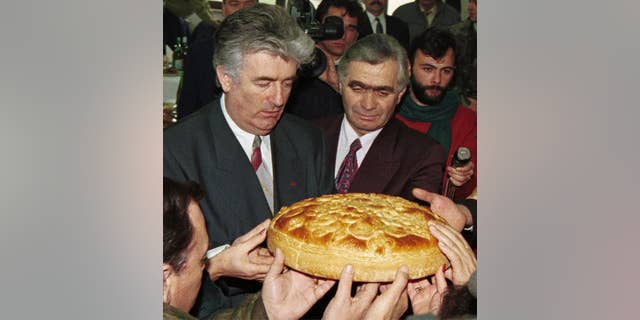 NEWYou can now listen to Fox News articles!
BELGRADE, Serbia – Serbia's president urged greater protection for the rights of Serbs in the Balkan region as he met Wednesday with a former top Bosnian Serb leader who was convicted as a war criminal.
The call by Serbian President Tomislav Nikolic is similar to ones that triggered the bloody disintegration of Yugoslavia in the 1990s. His meeting with Bosnian Serb leader Momcilo Krajisnik reflects a resurgence of nationalist sentiment that led to the Balkan wars that left more than 100,000 people dead.
Krajisnik spent 13 ½ years in prison for persecuting and forcibly expelling non-Serbs during Bosnia's 1992-95 war. He was released in 2013 after his conviction by the United Nations war crimes tribunal in the Hague, Netherlands.
A 1995 U.S.-sponsored peace agreement made Bosnia a union of Bosnian Serb and Muslim-Croat regions.
But that deal seems to be unraveling, with Bosnian Serb leaders calling for secession of their mini-state called Republika Srpska and joining it with Serbia.
Krajisnik, who leads a non-governmental organization called Association of Creators of Republika Srpska, said after the meeting with Nikolic that Bosnia "has become an impossible country."
"The Serb people (in Bosnia) are not feeling comfortable," Krajisnik said. "Nor do the Croats....The situation in Bosnia is alarming."
Krajisnik, who was the No. 2 behind Bosnian Serb leader Radovan Karadzic, predicted there would be "sporadic skirmishes," but not another war in Bosnia.
Nikolic, who is staunchly pro-Russian, said in a statement that his discussion with Krajisnik emphasized "the status and protection of human rights of Serbian people in the countries in the region, as well as the protection of Cyrillic and the Serbian language."
The Youth Initiative for Human Rights in Serbia said in a statement that the meeting represented "a step further" in the denial of wartime crimes committed by Serbs.
Claims that the rights of Serb minorities in Bosnia and Croatia were jeopardized led to the violent disintegration of the former Yugoslav federation after the Serb-led Yugoslav army intervened.
In 1992, Bosnia's Serbs rebelled against the majority in Bosnia who opted for independence. They preferred to stay in Serb-dominated Yugoslavia while Muslim Bosniaks and the Catholic Croats wanted Bosnia to be an independent state.