Seeing Berlin attacked, Nice relives truck rampage horror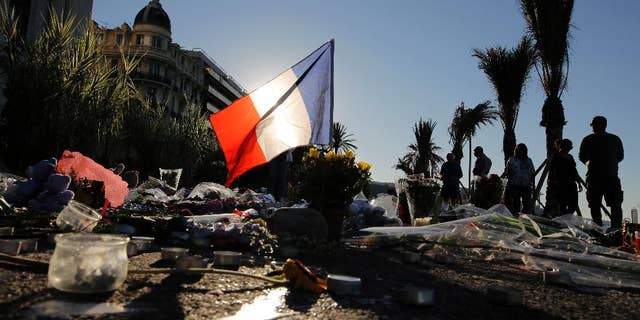 NICE, France – The nightmares returned to Catherine Cocampo this week — visions of a truck careening through crowds, leaving a trail of corpses behind it.
Residents of the French Riviera city of Nice lived through that nightmare in July, and are reliving it this week following Monday's chillingly similar narrative in Berlin.
Cocampo, a 57-year-old teacher, volunteered to give psychological support to victims after the truck attack on Nice's Bastille Day beach-side fireworks party, which killed 86 people. That attack was carried out by a Tunisian who claimed allegiance to Islamic State extremists.
"I lived again the scene the victims described to me ... I had a very bad night. Bad nightmares came back," she said after seeing the carnage from the truck attack on a Berlin Christmas market Monday.
Nice retiree Caroline Barbier can't bear to watch the Berlin news at all. "This brings back too many memories. We need time before we can go through all this" again, she said.
A surge of visitors has come to a memorial site to pay respects to those killed in Nice following this week's attack in the German capital which killed 12. The site, a bandstand near the Promenade des Anglais, is covered in stuffed animals, notes and flags from around the world.
A couple from nearby Cannes, Franck et Joelle Ribal, visited for the first time this week, prompted by the Berlin attack.
"We are not safe anywhere. This happened in Berlin, in Nice, next in Cannes or in Turkey or anywhere else, we don't know," said Joelle Ribal, an entrepreneur.
Security is tight at the Nice Christmas market, but that is not deterring many residents.
"We force ourselves to go out, to show that we are not afraid. We have to continue to live despite of all this," said Pierre Tedeschi.
Five months after the Nice attack, some of the injured are still recovering and many questions linger about the attacker, his motives and how many others might have been involved.
Nine people have been handed preliminary charges in the investigation, though it's unclear if they knew of driver Mohamed Lahouaiej Bouhlel's deadly attack plan. Bouhlel himself was killed by police.