Security intensified across France to thwart fan violence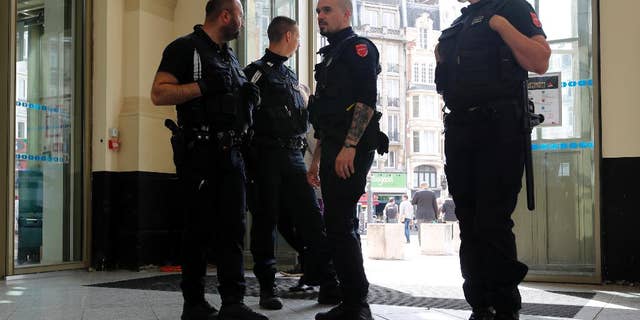 NEWYou can now listen to Fox News articles!
LILLE, France – Police reinforcements are being deployed across northern France and alcohol bans expanded after European Championship security operations were intensified in a bid to prevent further violent rampages by soccer fans.
Authorities are anxious about England and Russia supporters converging on Lille so soon after weekend clashes in the southern city of Marseille in the opening days of Euro 2016.
Although England's next game is not until Thursday in Lens — a match against Wales — Russia is playing the other Group B game against Slovakia the previous day only 30 kilometers (20 miles) away in Lille.
Many England fans are expected to stay in Lille because it has a direct rail link to London and is far larger than Lens, the smallest Euro 2016 host city.
Authorities, who are urging England and Wales fans to steer clear of Lille before Thursday, are implementing preventative measures. But some minor scuffles already broke out Tuesday and at least one fan was detained.
In Lille, supermarkets were forced to stop selling alcohol for 60 hours — from 6 p.m. on Tuesday until 6 a.m. on Friday — while bars and restaurants must close by midnight over that period.
More than 2,500 security personnel, including police officers and soldiers, will fan out across Lille on Wednesday as part of a 4,000-strong emergency services deployment, state prefect Michel Lalande said.
"Before last weekend, nothing would have justified these measures," Lalande said Tuesday at a briefing in Lille.
In Lens, more than 2,400 security officials will be deployed as the town prepares for an anticipated influx of 40,000 to 50,000 England and Wales fans for Thursday's game.
The 35,000-capacity Stade Bollaert-Delelis can fit the entire population of Lens, whose narrow streets will be on lockdown for the visit of the British supporters.
"We will have a strong police presence with more than 1,200 police officers present in Lens and you can add 1,200 more with the private security that will be mobilized that day," regional administration head Fabienne Buccio said at a briefing in Arras.
Police officers will be around and inside the stadium to help to separate fans. UEFA acknowledged segregation problems at Marseille's Stade Velodrome contributed to Russian fans attacking their English rivals after the 1-1 draw.
"We have strengthened the safety systems on the inside of the (Lens) stadium," said Buccio, the state prefect for the northern Pas-de-Calais region. "They will be present in the stands ready in order to intervene quickly in the stadium if there are clashes between supporters.
"There will be reinforced procedures outside the stadium. The town will be in lockdown by the police."
Restrictions on the sale of alcohol will be in place in parts of the region and on ferries from England.
Bars in Lens can sell beer as long as it's less than 5 percent alcohol and it must be served in paper or plastic cups. Supermarkets will be banned from selling any alcohol from 6 a.m. Wednesday to 6 a.m. Friday, Buccio said. Gasoline stations on the 30-kilometer (20-mile) route from Lens to Lille face the same 48-hour liquor ban.
Alcohol can also not be brought on trains for the journey of about 40 minutes to Lens from Lille.
Additional British police offers have been sent to Lille to support the French operation.
"We are obviously concerned," Mark Roberts, the head of soccer policing in Britain, told The Associated Press next to the fan zone in Lille. "What we saw in Marseille was appalling violence. It was concerted and largely came from people who came with the sole intent of injuring others. So we have to be concerned."
Britain is working with French investigators to find England fans involved in the disorder in Marseille.
"We have footage of them," Roberts said. "There are currently 48 people we have images of ... and we will be seeking banning orders on them once we have identified them and they return to the U.K."
Russia has been told by UEFA's disciplinary panel it will be thrown out of Euro 2016 if there is further mayhem among its fans.
Roberts insisted his Russian counterparts were as determined as the British to prevent violence among fans.
"The Russians worked really closely with us in Marseille," said Roberts, who works with the National Police Chiefs' Council in Britain. "They passed intelligence and worked with us. There is absolutely no lack of will with the Russian police to support the operation."
___
Associated Press writer Raphael Satter in Paris contributed to this report.