Second American journalist threatened with beheading described as loving friend, fearless reporter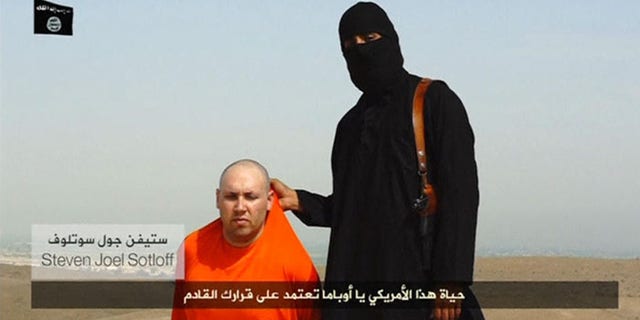 Friends and colleagues of American Steven Sotloff are desperately hoping he is released by the ISIS militants who threatened to execute him after beheading fellow U.S. journalist James Foley in a video that shocked the world Wednesday.
Sotloff, a 31-year-old reporter from Miami, is seen at the end of the graphic footage next to Foley's masked executioner who says, "The life of this American citizen, Obama, depends on your next decision."
"It rips me up inside to see him in that video," Sotloff's college roommate, Emerson Lotzia, told FoxNews.com Wednesday.
Lotzia, who lived with Sotloff for three years while they were students at University of Central Florida, described him as a loving friend and "wonderful human being" who "would drop what he was doing to make sure his friends were OK."
"He was just following his passion and love for writing," Lotzia said of Sotloff, who was abducted in August 2013 near Aleppo, Syria's largest city. "Steve is very intelligent -- book smart and street smart -- and fearless. I don't know any challenge he'd turn down."
"He was the first friend I made at UCF," Lotzia said. "We just want him back."
Sotloff, who is from Miami, had worked for Time magazine, among other publications, and had written from several danger zones around the world before he was captured.
His Twitter profile describes him as a "stand-up philosopher from Miami."
Sotloff's last tweet, dated Aug. 3, 2013, was about his beloved basketball team, the Miami Heat.
"How much of an impact with big man #GregOden have with #MiamiHeat next season?" he posted. In an earlier tweet from July 2013, Sotloff wrote on Twitter, "Is it bad that I want to focus on #syria, but all I can think of is a #HEATFinals repeat?"
In a statement released Wednesday, the University of Central Florida said, "This is an unspeakably terrible circumstance. We join so many others who hope for Steven's safe return."
Sotloff's family was reportedly aware he had been kidnapped, but did not want his capture to be made public at the guidance of intelligence officials. After the video of Foley's murder was released, Sotloff's family refused requests for comment from the media.
A former high school classmate of Sotloff's at Kimball Union Academy boarding school in New Hampshire described the freelance reporter as "very bright" and likeable.
"He played rugby and football," said the classmate, who asked not to be identified. "When I found out he was reporting for some large media outlets I'd try to make an effort to read his work."
The classmate said Sotloff spoke at his alma mater last year about his experience reporting from a war zone. Kimball Union Academy in Meriden, N.H., confirmed to FoxNews.com that Sotloff graduated from the school, but did not offer further comment.
A White House petition, created late Tuesday, calls on President Obama to take immediate actions to save Sotloff "by any means necessary."
On Nov. 22, 2012, freelance journalist James Foley, originally from New Hampshire, was kidnapped while leaving an Internet cafe in Binesh, Syria. ISIS released a video Tuesday showing Foley being executed by a masked militant clothed all in black. U.S. officials said Wednesday they believe the video is authentic.
Another U.S. journalist, Austin Tice, a former U.S. Marine who had been working as a freelance journalist for the The Washington Post, McClatchy Newspapers and other outlets, has been missing in Syria for more than two years. A video of him in the hands of his captors surfaced shortly after he was taken, but it is not known who might be holding him.