Sanction-Busting Secret Deal Reveals Iran's Nuclear Weakness and Ambition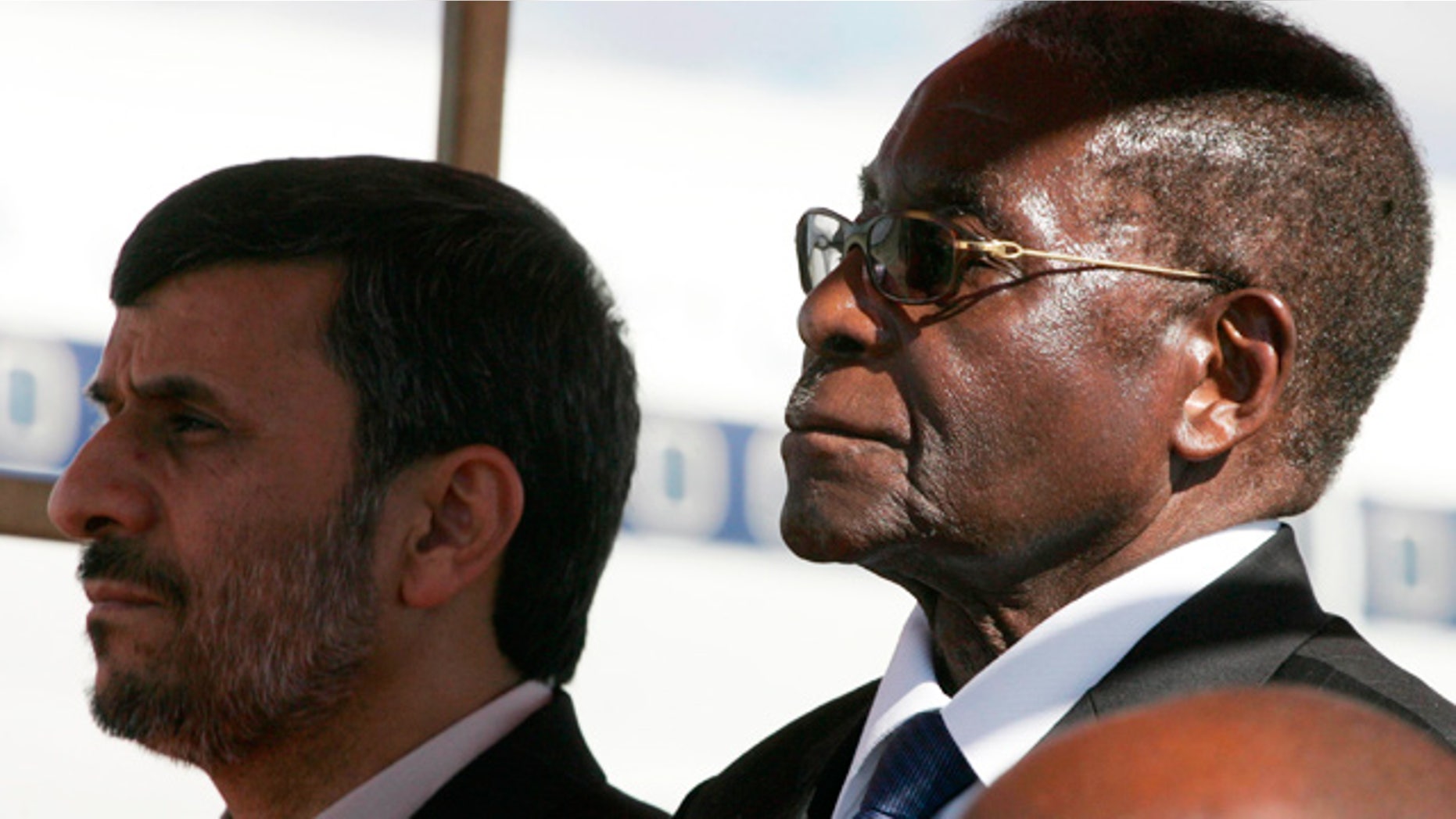 Two of the world's worst dictators are thumbing their noses at the U.N. as it tries to shore up support for increased sanctions against Iran.
According to press reports, Iran secretly agreed last month to provide Zimbabwe with oil in return for exclusive access to the crippled African nation's precious uranium ore.
Though Zimbabwe has officially denied that any deal took place, Iranian President Mahmoud Ahmadinejad visited Zimbabwe's President Robert Mugabe last week on his way to the nuclear conference in New York.
During the visit Mugabe publicly supported Iran's "just cause" in seeking to develop nuclear power. If the report of the deal, published in England's Sunday Telegraph, is true, it would violate U.N. sanctions against Iran and give a compelling reason for the U.N. to tighten the sanctions even more.
The UN is currently holding a conference aimed at reigning in Iran's efforts to obtain nuclear weapons by blocking other countries from supplying the Islamic Republic with any material that might be used in its nuclear program.
At the conference on Monday, Secretary of State Hillary Clinton accused Iran of trying to evade current sanctions and of continuing its efforts to secretly create a nuclear arsenal in violation of U.N. rules under the Nuclear Non-Proliferation Treaty.
Clinton said the Iran will "do whatever it can to divert attention from its own record and to attempt to evade accountability" in its effort to arm.
Ahmadinejad, who flew to New York to head off new sanctions, claimed that the U.N. had no proof it was violating international accords by pursuing a nuclear weapons program, and he attacked the U.S. for pursing efforts to ratchet sanctions further.
News of the oil-for-uranium deal, however, only undercut his bargaining position before the world council. But possibly more important than the damage the deal did to Ahmadinejad before the U.N., nuclear experts say, is that it was undertaken at all.
They say it provides compelling evidence of an Iranian predicament that until now has been the subject of some debate among scientists and Iranian observers.
"Iran has exhausted its supply of yellowcake," said Jacqueline Shire of the Institute for Science and Security (ISIS).
"We now believe the reason the Iranian reactor at Isfahan has been idle for the past year is that Iran has used up its stockpile of yellowcake bought years ago from South Africa."
She cautioned, however, that this would have little impact on Iran's alleged nuclear weapons program.
"We estimate that they have enough refined fuel to keep the centrifuges going for 20 to 30 years," she said (The centrifuges produce the high grade uranium needed to construct a bomb.)
"The problem is at the middle stage of the process, the unrefined fuel." Geologists estimate that that Zimbabwe has 450,000 tons of uranium ore that would produce 20,000 tons of enrichable uranium in Kanyemba, an area about 160 miles north of the Zimbabwean capital, Harare.
Because news of the deal was leaked, it is likely to undercut whatever advantages the pariah states might have sought from it, experts said.
"If the Isfahan reactor starts again, the first place that will come under scrutiny for sanction busting would be Zimbabwe," Shire said.
"The deal had to be covert to work, and even that was iffy. Anything that might help Iran's nuclear program is a violation of U.N. sanctions."
John Campbell, an Africa expert at the Council of Foreign Relations, the former U.S. ambassador to Nigeria and former political counsel to the American embassy in South Africa, said: "All we know right now is that there is a leaked report from inside the Zimbabwean government that there is a deal. That is as far as we can go. Is it plausible? Yes. Do we know more? No." he said.
He said that the agreement mimicked a covert deal that South Africa and Israel had in the '80s, in which South Africa cooperated in the nuclear research and the supply of minerals and equipment that resulted in Israel's alleged nuclear war capability.