Russian President Putin says he plans to meet with Obama in Peru to discuss Syria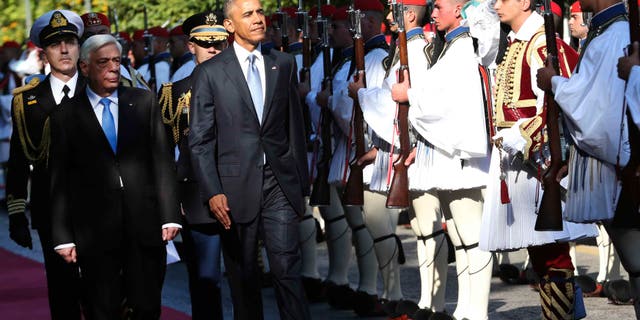 NEWYou can now listen to Fox News articles!
Russian President Vladimir Putin plans to meet with President Barack Obama in Peru this week to discuss the situation in Syria, a Kremlin spokesman said this week.
Putin already discussed Syria with President-elect Donald Trump over the phone and they both agreed on the need to combine efforts in the fight against what the Kremlin called their No. 1 enemy — "international terrorism and extremism."
The Obama administration has been trying for months to negotiate a cease-fire in Aleppo, a city that has become the epicenter of the war between President Bashar Assad and rebels fighting to topple him, some of whom receive U.S. aid.
Kremlin spokesman Dmitry Peskov said the presidents will meet ahead of the Asia-Pacific Economic Cooperation summit that Peru is hosting later this week, according to Reuters.
Peskov said Putin has no immediate plans to meet with Trump in person.
Obama's trip to the Peruvian capital of Lima closes out his final foreign trip as president.
In Lima, Obama will also with Chinese President Xi Jinping and Australian Prime Minster Malcolm Turnbull.
On Tuesday, as he arrived in Greece for the first leg of his trip, Obama said Democratic and Republican administrations alike recognize the importance of the alliance to the trans-Atlantic relationship.
Obama's reassurances reflect an attempt to ease the deep concerns about Trump and the future of America's treaty alliances.
Without mentioning Trump by name, Obama told Greek President Prokopis Pavlopoulos that a strong NATO is of "utmost importance" and would provide "significant continuity even as we see a transition in government in the United States."
Obama also met Tuesday with Greek Prime Minister Alexis Tsipras, and offered a welcome message of support for the Greeks as they struggle with both economic woes and a huge influx of refugees. Obama pledged to keep pressing his view that "austerity alone cannot deliver prosperity and that it is going to be important both with respect to debt relief and other accommodative strategies to help the Greek people in this period of adjustment."
On Wednesday, Obama is scheduled to tour the Acropolis and give a major speech about democracy and globalization before flying on to Berlin. From Germany, Obama will travel to Peru before returning to Washington on Saturday.
Obama said he was looking forward to visiting the Acropolis because "if you come to Greece you've got to do a little bit of sightseeing."
The Associated Press contributed to this report.