Roger Noriega: Venezuela's Narco-Conspiracy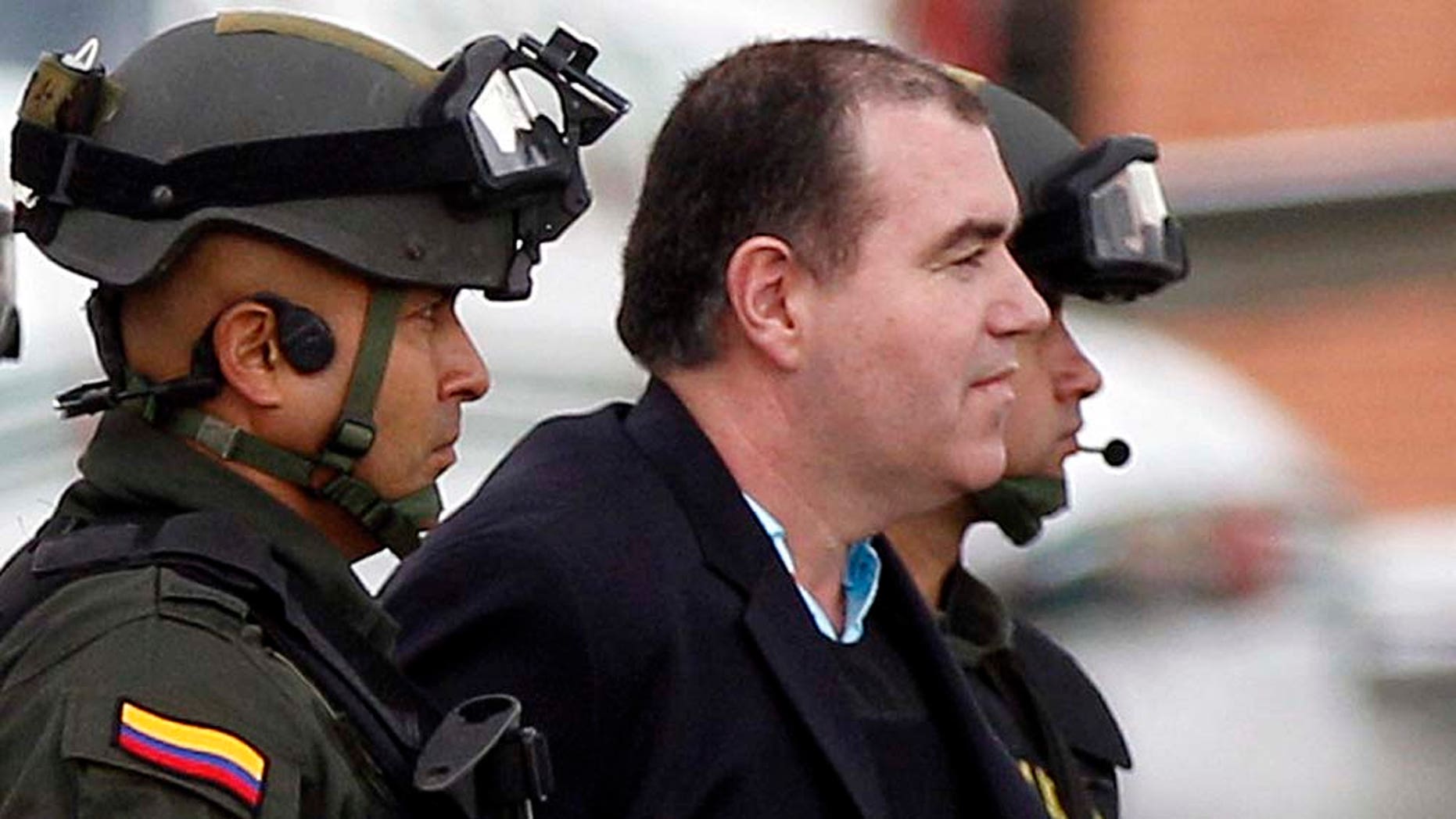 An impeached Venezuela's supreme court chief justice recently fled his country and has publicly denounced president Hugo Chávez for interfering in criminal cases to protect narcotraffickers at the highest levels of his government.  In televised interviews taped before he began cooperating with the U.S. Drug Enforcement Administration (DEA), Judge Eladio Aponte-Aponte describes a judicial system that is systematically corrupted by Chávista cronies and military leaders who have made billions of dollars trafficking in cocaine and laundering the proceeds of an international criminal syndicate.
Chávez's dismissal of these profound allegations as "old news."  Clearly the man has been corrupting institutions, allowing the military to traffic in cocaine, and laundering loot for so long that he has forgotten that, even in Venezuela, there are laws against such things.  The hysterical reactions of Aponte's former colleagues at the highest levels of the regime, on the other hand, reveal a bunch of gangsters with guilty consciences.  They may see Chávez as the only man capable of holding on to power and, well, keeping them from killing one another.  And his days are numbered.
Judge Aponte is a long-time Chávez crony whom he appointed to several positions of trust, including military prosecutor and, eventually, chief judge in charge of criminal cases in the supreme court.  Last year, a notorious Venezuelan drug kingpin, Walid Makled, fled to Colombia and granted a series of interviews accusing Aponte and dozens of senior military officers of complicity with his cocaine smuggling enterprise, run from the bustling city of Puerto Cabello.  A year ago, Colombian authorities returned Makled to Venezuela to face murder charges, and his trial in Caracas began this week.
Despite Makled's allegations, Aponte remained in his judicial post until being removed dismissed a month ago.  According to my Venezuelan sources, the judge fled the country after he was tipped off by friends that Chávez intended to make him the fall guy during the Makled trial in order to protect other conspirators who just happen to run the government, military and ruling political party – when they are not otherwise occupied smuggling drugs.
Indeed, in taped interviews aired last week, Aponte claimed to have specific information implicating Chávez and others – including Minister of Defense, General Henry Rangel Silva, Army Commander, General Cliver Alcala, and former intelligence chief, General Hugo Carvajal Cordones.
The regime reacted furiously to these allegations and to news that Aponte is in Washington, DC, cooperating with the DEA.  After many months being sequestered by the regime, the suspected kingpin Makled was rushed out before state television on Wednesday to declare that he paid the Aponte $70,000 per month for favors and that the judge was his partner in the defunct airline, Aeropostal.
Chávez confidante and foreign minister, Nicolas Maduro, branded Makled a fink, saying, "It's easy to understand that a fugitive from justice, charged with mafia links with drug trafficking and then impeached, had sold his soul to the DEA." Similar comments have been made by the president of the national assembly, Diosdado Cabello, Interior Minister Tarek el Aissami, and by other members of the ruling party.  Without a trace of irony, a Chávista congressman and former justice minister who once branded the DEA a drug cartel, Pedro Carreño, led the charge against Aponte in the national assembly.
Hugo Chávez's most fervent followers have convinced themselves for 13 years that he was a champion of their rights.  They may be among the last to realize that justice in their country is a farce – hardly "old news" to them.  The denunciations of the corrupted judicial system by a man they know as a Chávez loyalist may be the first blow to their blind faith.  For that reason, the regime's defenders must destroy Aponte's credibility as an agent of the United States.
These Chávista spin-doctors hope to win the public affairs battle, but when gangsters nervous about Aponte's cooperation with the DEA start to betray one another, another type of battle might ensue.  And as U.S. prosecutors build their case against the regime in Caracas as a narco-state, Chávez's successors will forfeit any sense of legitimacy along with any hope of holding on to power for very long.
Unfortunately, President Obama's advisors are keeping him uninformed of this grave security challenge, which might account for his comment at this month's Summit of the Americas in Colombia, "We don't see Venezuela as a threat to the United States."  In the mean time, the DEA has overcome the resistance of career U.S. diplomats to build cases against the drug kingpins who lead Venezuela's government today.  The growing chorus of concern from the U.S. Congress is decisive in addressing the threat that will emanate from Venezuela after Chávez dies and his criminal cronies try to keep power by brute force.  

Roger F. Noriega was Ambassador to the Organization of American States from 2001-03 and Assistant Secretary of State from 2003-05. He is a visiting fellow at the American Enterprise Institute and managing director of Vision Americas LLC, which represents U.S. and foreign clients, and he contributes to www.interamericansecuritywatch.com.