Retailer apologizes, scraps children's shirt resembling Nazi concentration camp garment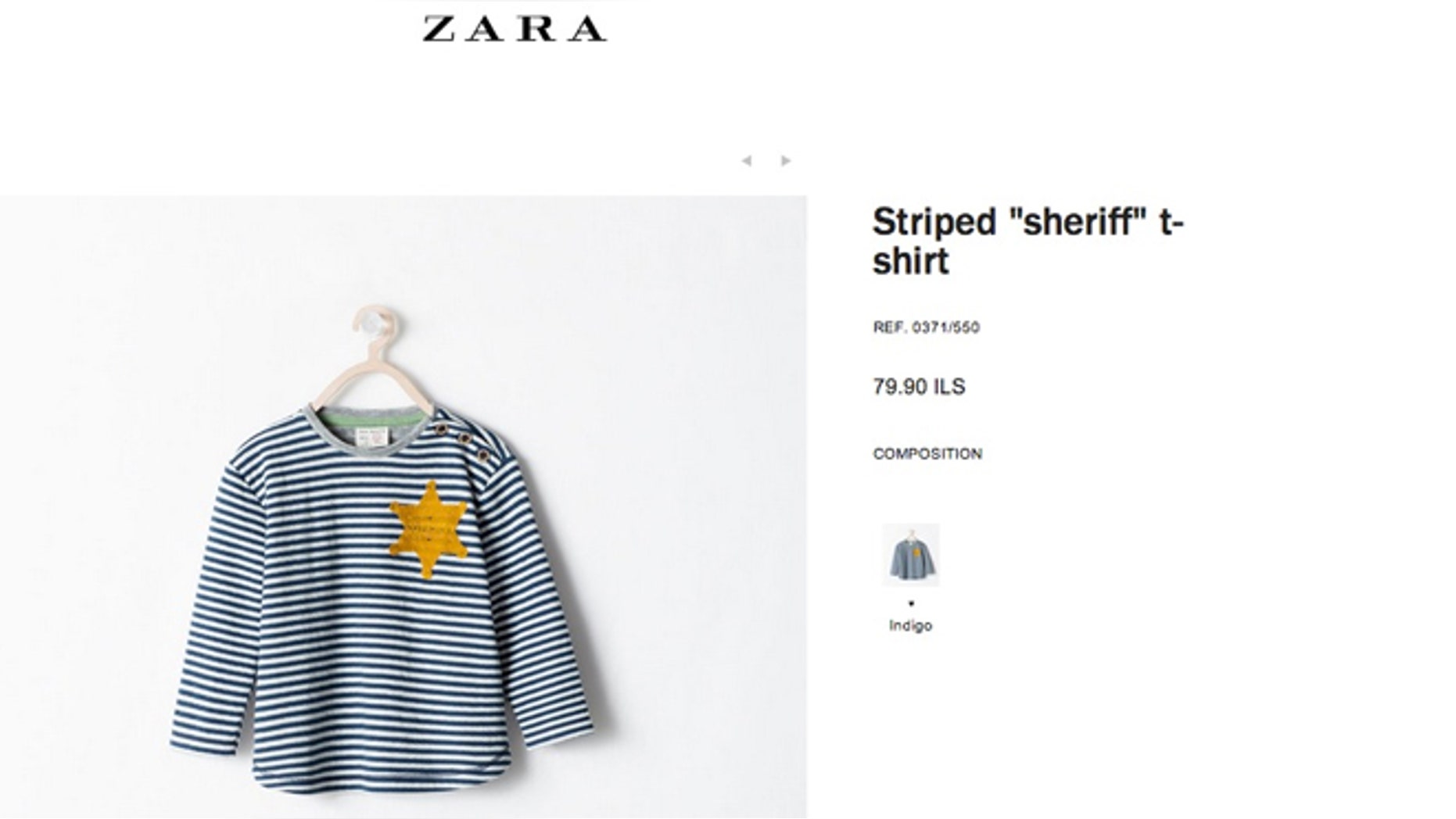 Spanish clothier Zara is apologizing for a children's T-shirt that some say resembles garments worn by Jewish prisoners in World War II concentration camps, complete with a six-pointed, yellow star.
The garment, which was marketed online as a striped "sheriff" T-shirt, has been removed following complaints by critics who noted its similarity to clothing Nazis required Jews to wear in concentration camps throughout Europe during World War II. One Holocaust survivor told FoxNews.com that the yellow star on the shirt's left breast is strikingly comparable to the yellow star of David and should have been shut down during production.
"It is offensive and it either comes out of one of two things: Total ignorance, which I cannot believe, or insensitivity," said Abraham Foxman, national director of the Anti-Defamation League. "And so, either one is bad. These are people who are supposed to know style and understand what's out there. How many people were involved in the design and production and nobody said anything?"
[pullquote]
Foxman acknowledged he may be more sensitive to questionable imagery links than other critics, but he said the company should have known better.
"Really, they can't claim ignorance because it's not just one person's ignorance here," Foxman told FoxNews.com. "I just can't understand. It's not funny, it's not chic; it's crude and offensive."
Foxman noted that this isn't the first time a retail clothing company has designed a shirt with insensitive imagery reminiscent of the stars that Jews were forced to wear in the ghettos of Europe during World War II. In April 2012, Danish company Wood Wood apologizing for selling a T-shirt bearing a logo similar to a Jewish Star of David after concerns were raised by ADL.
"The fact that this keeps happening shows that there is a serious need for education about the Holocaust and the history of anti-Semitism," Foxman said.
Only 54 of the world's population has heard of the Holocaust in Europe, according to a recent ADL survey cited by Foxman. Of those, 4 percent believe the Holocause was a "myth" and 28 percent think the number of Jews killed have been greatly exaggerated.
In a statement to FoxNews.com, Zara officials apologized for the T-shirt, which was inspired by classic Westerns, according to a spokesman.
"The mentioned T-shirt is no longer on sale in our stores," the statement read. "The design of the T-shirt was only inspired by the sheriff's stars from the Classic Western films, as the claim of the t-shirt says."
Some online critics, however, were less than moved.
"Apology is not accepted," one post on Twitter read. "Please name designer. This is no mistake."
Others questioned whether Zara designers were absent during world history lessons, while some said the controversy was being blown out of proportion.
"Kids tops are frequently striped. Kids wear (sheriff) badges," another Twitter user posted. "Hey, let's include that in a design. Nothing nefarious."
Foxman, meanwhile, accepts the company's apology and said he's glad it's no longer being sold.
"The most important thing is it's no longer on the market," he said. "Period."