Report: Latino Joblessness Rose, but Employers Added 157K Jobs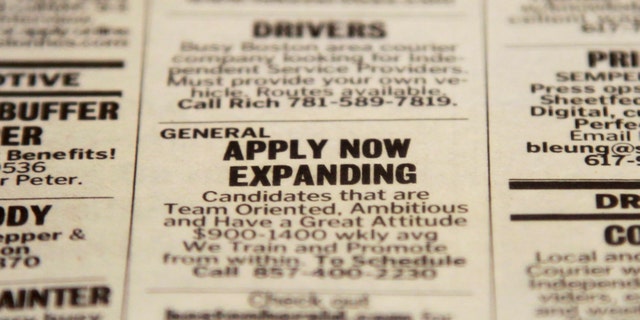 The unemployment rate for the nation's largest minority group rose to 9.7 percent in January from 9.6 percent in December, according to a labor report released Friday.
The Latino numbers mirrored those of the general population, which saw a rise in unemployment from 7.8 percent to 7.9 percent in December. The rate is calculated from a survey of households, and more people in that survey said they were unemployed.
But the U.S. job market showed recovery in the last month, with the Bureau of Labor Statistics report indicating that employers added 157,000 jobs in January, and hiring was much stronger at the end of last year than the government had previously estimated.
The uptick comes at a time when the U.S. job market is proving sturdier than expected at a time when the economy is under pressure from Washington gridlock and the threat of government spending cuts.
The employment report revealed a notable shift in the job market: More hiring by construction companies.
They added 28,000 jobs in January and nearly 100,000 over the past four months. Those job gains are consistent with a rebound in home construction and a broader recovery in housing.
Retailers added 33,000 positions. Health care gained 23,000 jobs. Manufacturers reported a small increase of 4,000. Restaurants and hotels added 17,000.
The upswing in those sectors arguably helped Latino employment, labor officials said, since those fields include a high number of Latino workers.
"The proportion of Latinos in those sectors is higher than other ethnic and racial groups, so when they do well, there will be a movement in Latino employment," said Abraham Mosisa, an economist at the Bureau of Labor Statistics. "But during the recession, they were hit the hardest – immigrants and minorities were hit harder than whites."
The overall unemployment rate remained below 10 percent for the third consecutive month. Latino unemployment was stuck above 10 percent for 44 months—more than three-and-a-half years—from Jan. 2009 to Sep. 2012.
And while the Latino unemployment rate has fallen more than three percentage points since peaking in Nov. 2010, it remains nearly five percentage points higher than the pre-recession level, according to labor statistics.
Some 66 percent of Latinos are in the labor force, they make up about 16 percent of overall U.S. workers.
The Labor Department's estimated job gains for the final two months of 2012 — a period when the economy was being threatened by the fiscal cliff — rose from 161,000 to 247,000 for November and from 155,000 to 196,000 for December.
The monthly job gains are derived from a separate survey of employers.
The hiring picture over the past two years also looked stronger after the department's annual revisions. The revisions showed that employers added an average of roughly 180,000 jobs a month in 2012 and 2011. That was up from previous estimates of about 150,000.
"The significantly stronger payroll gains tell us the economy has a lot more momentum than what we had thought," Joseph LaVorgna, chief U.S. economist at Deutsche Bank, said in a research note.
Stocks surged immediately after trading began at 9:30 a.m. Eastern time, an hour after the jobs report was released. The Dow Jones industrial average jumped 130 points and briefly touched 14,000 for the first time in more than five years, before falling back.
Other economic news Friday contributed to the stock rally. Manufacturing expanded at a much faster pace in January compared with December, a private survey found. Ford, Chrysler and General Motors all reported double-digit sales gains for January. And construction spending rose in December at a healthy pace.
"The strong and steady job gains from retail trade and construction look a lot more like a normal economic expansion," said Scott Anderson, chief economist at Bank of the West. "This is a sign that consumer spending is playing a far more important role in this expansion than it has so far."
The job market has remained steady despite pressure on the economy from the rift between President Barack Obama and Republicans over taxes and spending. Across-the-board spending cuts are set to kick in March 1. Financing to run the government will expire by March 27, raising the threat of a government shutdown. And the federal borrowing cap must be raised by May 18 or the government could default on its debt.
Friday's jobs report showed that average hourly wages rose 4 cents to $23.78 and have risen an encouraging 2.1 percent in the past 12 months. That's slightly above the inflation rate, which was 1.7 percent.
Last month's hiring should cushion the impact of the higher Social Security taxes that most consumers are paying this year. And it would help the economy resume growing after it shrank at an annual rate of 0.1 percent in the October-December quarter.
Higher Social Security taxes are reducing take-home pay for most Americans. A person earning $50,000 a year will have about $1,000 less to spend in 2013. A household with two high-paid workers will have up to $4,500 less. Taxes rose after a 2 percent cut, in place for two years, expired Jan. 1.
Analysts expect the Social Security tax increase to shave about a half-point off economic growth in 2013, since consumers drive about 70 percent of economic activity.
The hit to consumers is coming at a precarious moment for the economy. It contracted in the fourth quarter for the first time in 3½ years. The decline was driven largely by a steep cut in defense spending and a drop in exports. Analysts generally think those factors will prove temporary and that the economy will resume growing.
Still, the contraction last quarter points to what are likely to be key challenges for the economy this year: the prospect of sharp government spending cuts and uncertainty over whether Congress will agree to raise the federal borrowing cap.
Most analysts predict that the economy will grow again in the January-March quarter, though likely at a lackluster annual rate of around 1 percent. They expect the economy to expand about 2 percent for the full year.
Two key drivers of growth improved last quarter: Consumer spending increased at a faster pace. And businesses invested more in equipment and software.
In addition, homebuilders are stepping up construction to meet rising demand. That could generate even more construction jobs.
And home prices are rising steadily. That tends to make Americans feel wealthier and more likely to spend. Housing could add as much as 1 percentage point to economic growth this year, some economists estimate.
Auto sales reached their highest level in five years in 2012 and are expected to keep growing this year. That's boosting production and hiring at U.S. automakers and their suppliers.
The Associated Press contributed to this report.
Follow us on twitter.com/foxnewslatino
Like us at facebook.com/foxnewslatino