Report: Former Egyptian President Hosni Mubarak to be freed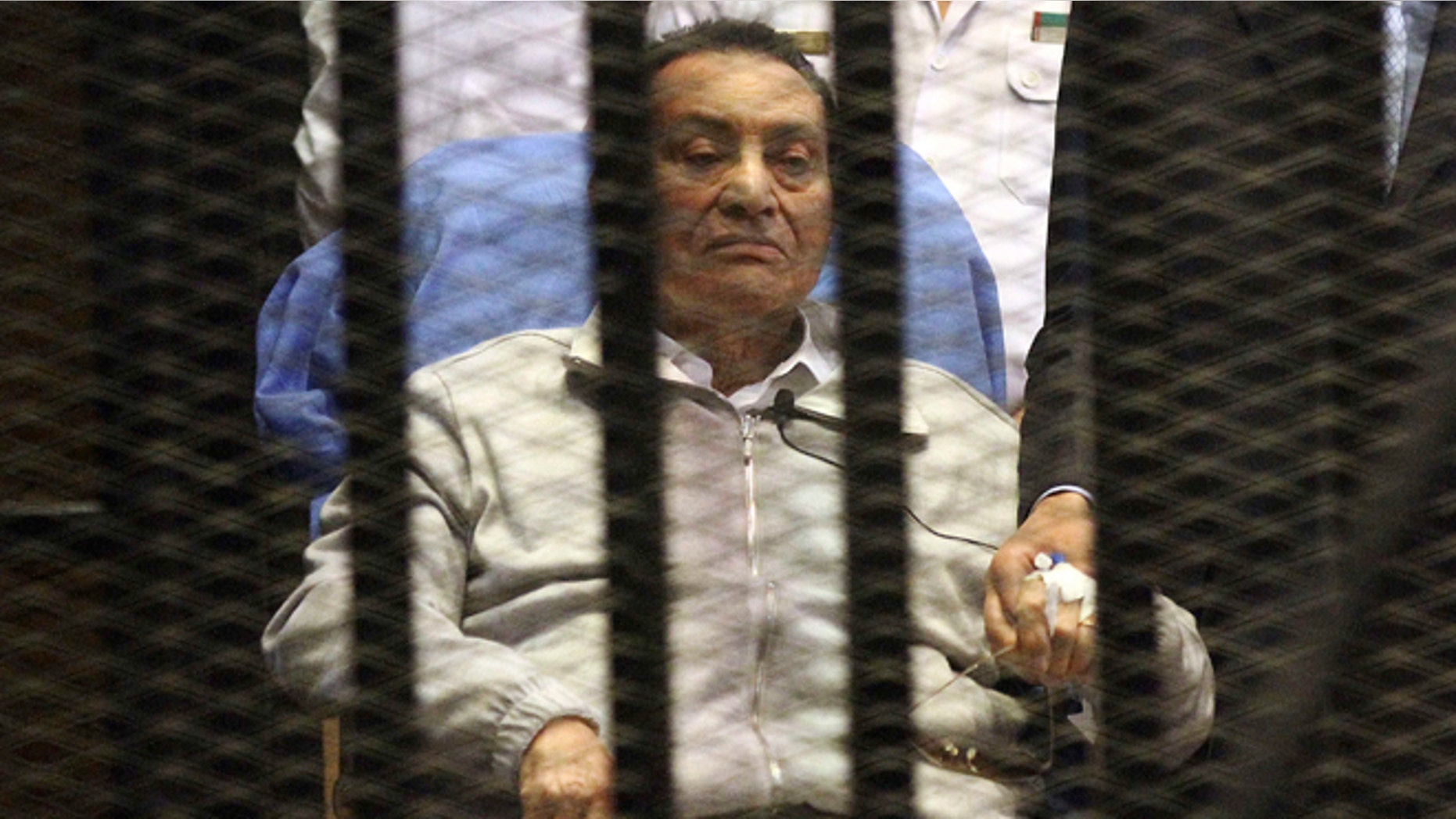 Egyptian judicial officials have ordered former President Hosni Mubarak freed from jail, a stunning turnaround for the 85-year-old strongman who ruled the nation for three decades before being ousted in a popular revolution, and a move that could plunge the unraveling North African nation into further violence.
The announcement, which comes as Egypt is roiling with new protests following the July 3 ouster of Mubarak's successor, Mohammad Morsi, stoked fears of even more violent reprisals from the Muslim Brotherhood, whose supporters have clashed with security forces and torched dozens of Coptic churches. As many as 1,000 Egyptians, including 70 soldiers and police officers,have been killed in the last week in fighting between the Muslim Brotherhood and the nation's more secular Muslims and Christians. On Sunday, some 25 Egyptian police were ambushed and executed in the lawless Sinai Peninsula, where the Muslim Brotherhood appears to have aligned with Al Qaeda fighters.
Also on Sunday, 36 Islamists died as they were being transported to a prison outside Cairo. Government officials said they suffocated in the back of a prison van after tear gas was used on them as they rioted. The Muslim Brotherhood accused the interior ministry of killing the detainees "for their opposition to the bloody military council".
Mubarak, who is on retrial for the killings of hundreds of protesters during the 2011 uprising that led to his ouster, will be released from jail in the next 48 hours after a prosecutor cleared him of a corruption charge, his lawyer Fareed El-Deeb told Reuters. Still, The New York Times reported that the government could still find a way to hold Mubarak and that his release was not imminent.
He will still continue to stand retrial for the protesters' killing but cannot be held in custody anymore because of a two-year limit for holding an individual in custody pending a final verdict. Mubarak has been in detention since April 2011, and is being held at Tora prison on the southern outskirts of Cairo, the same facility where senior members of the Muslim Brotherhood are being held.
Mubarak was found guilty and sentenced to life in prison in June last year for his failure to stop the killing of some 900 protesters in the 18-day uprising against his rule. His sentence was overturned on appeal and he is now being retried, along with his security chief and six top police commanders.
Judicial authorities ordered Mubarak released in one of the remaining corruption cases against him, which alleged he and his two sons embezzled funds for presidential palaces, the Associated Press reports.
According to Deeb, the only legal grounds for the ousted president's detention rest on one other corruption case which is slated to be cleared up this week.
If Mubarak is freed, the reversal will be remarkable, as Morsi has been held at an undisclosed location since being removed from power. The military removed President Mohamed Mursi, a senior Brotherhood official, on July 3 after mass protests against his rule. Mursi is in detention at an undisclosed location. He faces an investigation into accusations - including murder - stemming from his escape from prison during the anti-Mubarak revolt.
The U.S. and Europe are monitoring the situation and urging calm as the key Middle Eastern nation unravels. The EU plans to meet Wednesday in Brussels to discuss the situation, while President Obama, back from vacation, has urged calm while not explicitly taking sides.
The Associated Press contributed to this report.