Report: Aaron Hernandez Investigated For Alleged Death Threats To Prison Guard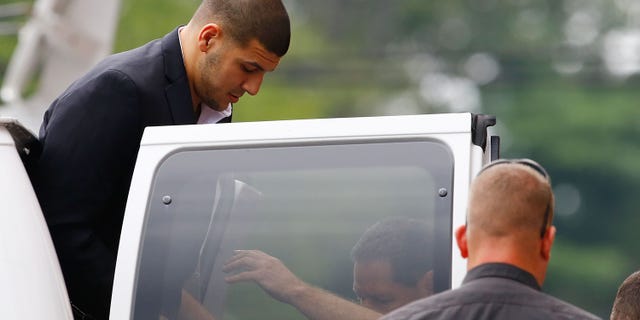 FALL RIVER, Mass. – Former New England Patriot Aaron Hernandez is reportedly under investigation amid allegations that he threatened to shoot and kill a guard at the Bristol County Jail late last year.
According to TMZ Sports, investigators recently met with a former inmate who was locked up near Hernandez to discuss a 2013 incident with a correctional officer. That former inmate reportedly told investigators Hernandez was losing weight while behind bars and would run various schemes to get extra food.
The website says the guards eventually put an end to that and that's when Hernandez allegedly threatened to kill the guard who blew the whistle on him.
The report says that ex-inmate claimed investigators asked if Hernandez threatened to kill the guard or his family and if Hernandez ever made a machine gun noise in the guard's presence.
The ex-inmate told TMZ the former football star never threatened the guard, however he did claim Hernandez called the guard a name.
Hernandez was reportedly written up over the incident. A current inmate told TMZ the report is not true.
Hernandez is currently charged with the murder of Odin Lloyd. Last week, his alleged associates, Carlos Ortiz and Ernest Wallace, were also indicted on murder charges.
The Bristol County Sheriff's office told FOX 25 they are looking into the TMZ report, but so far they have no comment.
Read more on myfoxboston.com.
Follow us on twitter.com/foxnewslatino
Like us at facebook.com/foxnewslatino