Qatar deny World Cup 'slavery' claims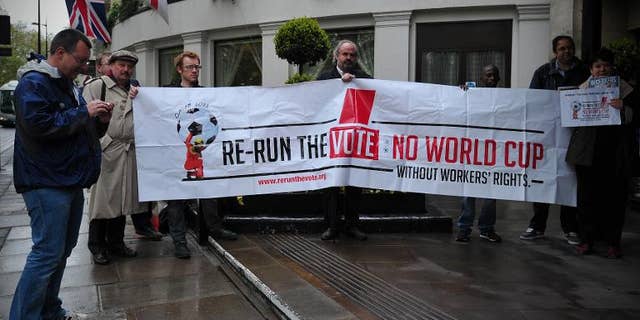 Doha (AFP) – The Chairman of Qatar's National Human Rights Committee (NHRC) on Monday denied claims by the Guardian newspaper that the 2022 World Cup organisers were treating Nepalese construction workers like 'slaves'.
Ali Al-Marri said the allegations, made last week, were totally erroneous.
"There is no slavery or forced labour in Qatar," he said at a press conference.
"The information that The Guardian reported is false and the numbers cited by them are exaggerated."
The Guardian report last Thursday said dozens of Nepalese workers have died while working in Qatar in recent weeks, raising concerns about the Gulf state's preparations to host the World Cup.
Quoting documents obtained by the Nepalese embassy in the Qatari capital Doha, the Guardian said thousands of Nepalese -- the largest group of labourers in Qatar -- faced exploitation and abuses amounting to "modern-day slavery".
Aidan McQuade, director of Anti-Slavery International, who has seen the documents presented by the newspaper, told AFP last Thursday the evidence was "certainly highly indicative of a brutal working environment which is not good for anybody."
However, Narinra Bad, the co-ordinator of the Nepalese community in the Middle East, was also present at Monday's press conference and he too disputed the figures the Guardian gave.
"151 Nepalese citizens have died in Qatar this year including 15 at their workplace," he said, adding the rest had died either in car accidents or of natural causes.
"In 2012, Nepalese deaths in Qatar numbered 276, including 55, that is 20 percent, at their workplace."
Bad said the total of Nepalese workers in Qatar numbered 370,000.
For its part the International Confederation of Trade Unions (ITUC) estimated that at the rate of deaths on building works in Qatar, at least 4000 workers will die even before the World Cup begins.