Putin opponent Alexei Navalny released after arrest during Moscow protests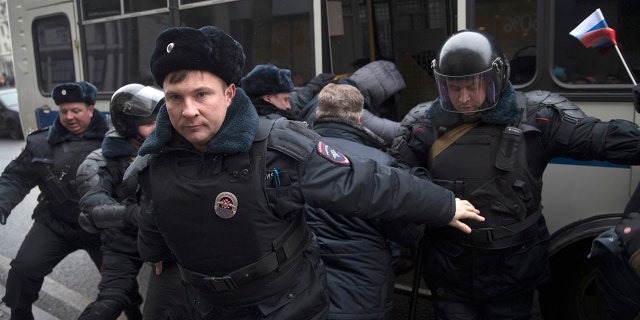 NEWYou can now listen to Fox News articles!
Russian opposition leader Alexei Navalny was released from police custody on Sunday after he was arrested during a day of nationwide protests against President Vladimir Putin.
Navalny, 41, was "released without charge," his lawyer, Olga Mikhailova, told Reuters. She noted her client would have to face court at another time.
Russian police reportedly wrestled Navalny into a patrol car in Moscow on Sunday moments after the anti-corruption campaigner appeared at a rally urging voters to boycott what he said would be a rigged presidential election in March. Putin is running for a fourth term.
Video showed Navalny walking a short distance when he was surrounded by helmet-clad police officers, according to Reuters. They wrestled him to the ground on the pavement, and then dragged him feet first into the patrol wagon.
Navalny urged supporters to continue the demonstrations despite his arrest.
He said on Twitter, "they have detained me. This doesn't mean anything ... you didn't come out for me, but for your future."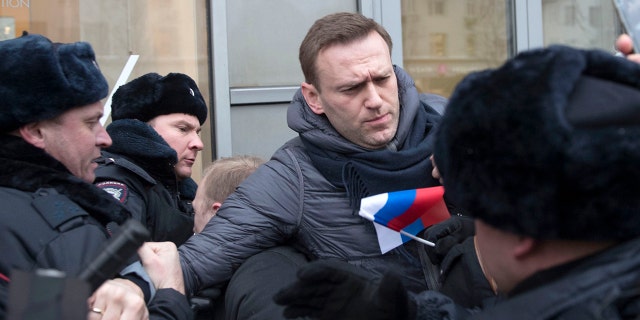 Navalny was denied permission to be a presidential candidate because of an embezzlement conviction in a case widely seen as politically motivated.
Earlier on Sunday police raided Navalny's campaign office in Moscow.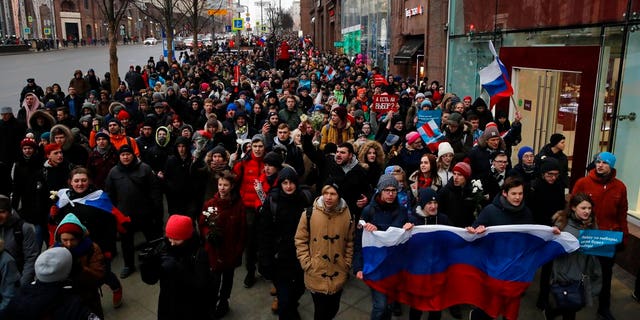 A video stream Sunday morning from Navalny's headquarters showed police entering the office. One broadcaster on the stream said police apparently were using a grinder to try to get access to the broadcast studio.
The anchors said police say they had come because of a bomb threat.
Thousands of people braving the cold demonstrated in Moscow and other cities, including St. Petersburg.
The OVD-Info group, which monitors political arrests, reported scores of demonstrators had been detained at protests in cities including Murmansk, Ufa and Kemerovo.
Several hundred demonstrators assembled in the Pacific port city of Vladivostok, complaining both of Putin's rule and of Navalny's exclusion from the March 18 presidential election.
"They took these elections away from us, they took away our votes. Our candidate was not allowed to run," said Vladivostok demonstrator Dmitri Kutyaev.
Fox News' Nicole Darrah and The Associated Press contributed to this report.