Prisoner of North Korea: An American safe at home shares his ordeal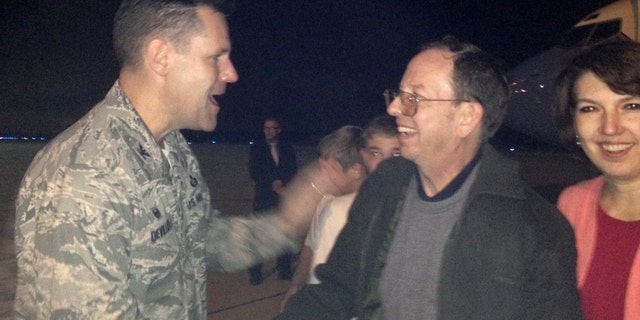 Jeffrey Fowle lost his job, feared for his life and wondered if he would ever see his family while being held prisoner by North Korea, yet the Ohio man considers himself lucky.
A devout Christian and father of three, Fowle, 58, traveled to the secretive dictatorship in 2014, driven by a long-abiding curiosity about the Hermit Kingdom and a desire to spread the Gospel to its people. In May, in the northern port city of Chongjinin, he made a mistake that cost him his freedom: He left a Bible under a trash can in the men's room at a nightclub. In a nation where visitors are under constant watch, he was arrested immediately.
"I advise anyone planning personal travel to North Korea to seriously reconsider their plans."
"North Korea had always intrigued me," said Fowle, who arranged his visit with Koryo Tours, a British-run firm based in Beijing.
NORTH KOREAN DETAINEE HAS EMOTIONAL REUNION WITH FAMILY IN OHIO
News that yet another American had been taken prisoner by the authoritarian dictatorship of Kim Jong Un quickly made its way back to the U.S., and the small, southern Ohio town of Moraine, where Fowle had worked for 26 years in the streets department.
Few Americans have traveled to North Korea. The State Department "strongly urges U.S. citizens to avoid all travel to North Korea/the Democratic People's Republic of Korea (DPRK) due to the serious risk of arrest and long-term detention under North Korea's system of law enforcement."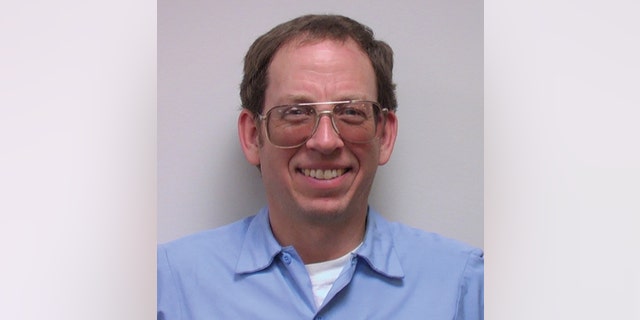 The U.S. has no diplomatic relations in North Korea. Foreigners who have been detained or imprisoned in the Hermit Kingdom often have a shared experience: confusion, coached confessions, communication blackouts and isolation.
Four U.S. citizens are currently known to be held in North Korea: 21-year-old college student Otto Warmbier, accounting professor Kim Sang Duk, businessman Kim Dong Chul and Kim Hak-Song, who worked at Pyongyang University.
Fowle understands why many would question his decision to travel to North Korea. He told Fox News that, having grown up in the Cold War era, he was fascinated with communism. He has visited the former Soviet Union, the birthplace of his wife Tanya, six times.
Fowle hoped the Bible he smuggled into North Korea, which contained his name and family photos, would find its way to someone in the underground Christian community. But a day after he concealed it, his tour group's leader confronted him. The book had been found and turned in almost immediately, and Fowle said he knew he had been caught. He was allowed to continue the tour, but when he arrived at the airport in Pyongyang to depart, authorities grabbed him.
AMERICANS RELEASED FROM NORTH KOREAN CAPTIVITY BACK ON US SOIL
Following his arrest, Fowle said he was in an "information black hole." He repeatedly asked his guards what North Korea wanted in exchange for his release, but he never got an answer. Early on, Fowle passed the time watching television at the Yanggakdo hotel where he was initially held. He was pleased to find not just state-run channels and propaganda, but options in English and Chinese. But as soon as his minders realized the error, he was limited to just three or four official channels.
Fowle stresses that, unlike Americans held before and after him, he was never placed in one of the brutal nation's infamous work camps. But in his quarters, he was isolated and monitored constantly. He was given pen and paper and coached on his "statement of guilt," a coerced confession he was made to re-write over and over.
Later, Fowle was moved to a heavily guarded "guest house," where he was limited to one small room. He spent up to 23 hours a day in isolation, his only human contact with a translator, with whom he took a daily walk.
Fowle said that his minders were part of the Korea International Travel Company (KITC), the state-run organization that deals with "herding tourists through the country." He believed they were carefully chosen and "well-trusted" by Kim Jong Un's regime.
NORTH KOREA SENTENCES AMERICAN TOURIST TO 15 YEARS IN PRISON WITH HARD LABOR
Throughout his detention, a liaison from the U.S. government kept his wife and children informed, but he said they kept the message realistic, without false optimism. His family was aware that the U.S. had to negotiate through the Swedish Embassy.
Relying on his faith throughout his detention, Fowle said he knew "God was in control." He remains grateful for the "army of people praying for [his family]."
In October 2014, Pyongyang announced that Fowle would be freed. One month later, then-Director of National Intelligence James Clapper visited Pyongyang to secure the release of Korean-American missionary Kenneth Bae, accused of evangelizing and committing "crimes aimed to topple the DPRK with hostility toward it," and American Matthew Todd Miller, accused of "hostile acts" after he arrived in Pyongyang requesting asylum and tearing up his visa.
Although he was in the dark about events, Fowle remembers the moments leading up to his return to the U.S. On his last day in North Korea, he was called to his final "inspection" and felt certain that he was going to be sent off to a forced labor camp. Instead, he was taken to the Pothonggang hotel, escorted into a conference room and given what he said sounded like a "pre-planned spiel" in English.
"The First Party Chairman and Marshal Kim Jong Un recommended" that he be released," a handler told him. Stunned, Fowle was approached by someone from the U.S. Department of Defense who told him that a plane was waiting to transport him.
Hours later, as he touched down at Wright-Patterson Air Force Base in Ohio, Fowle felt like he was "walking on a cloud." He embraced the family he hadn't seen in six months: his wife Tanya, his daughter Stephanie and two sons, Alex and Chris.
Since his return, Fowle hasn't left the country. One might assume that his wanderlust has been dampened by 6 months spent in captivity, but the calculation is far more practical. His job with the city was re-instated, and one condition of his re-employment was that he must refrain from taking any dangerous trips, he told Fox News.
Fowle credits one person above all others in securing his release: former U.S. congressman and former Ambassador to the United Nations Agencies for Food and Agriculture Tony Hall. Hall used contacts and leverage acquired during humanitarian work in the 1990s, when deadly famine gripped North Korea.
Hall told Fox News that Fowle's ordeal should serve as a warning to Americans curious about life in the rogue nation.
"I advise anyone planning personal travel to North Korea to seriously reconsider their plans," Hall said.