Premier inspects quake-hit Italian factories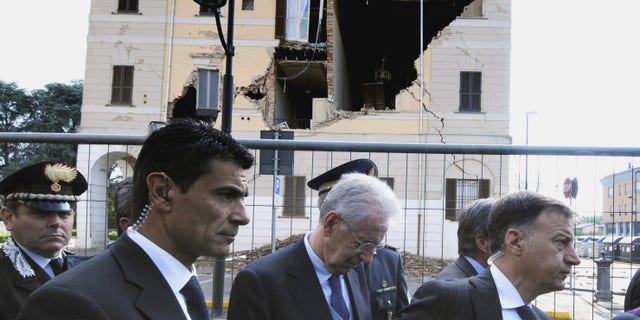 ROME – The government approved some temporary tax relief to owners of property damaged in the quake-struck north Tuesday, as the premier promised swift help for small-scale businesses in the region -- one of Italy's more productive.
The assistance was announced hours after Mario Monti inspected the Emilia Romagna region, including a ceramics factory where two workers died after it collapsed. In all, the quake that hit before dawn Sunday claimed seven lives.
Monti then led a Cabinet meeting in Rome that declared a state of emergency in the area and made $64 million in emergency funds available for use by the national Civil Protection agency providing quake assistance.
The Cabinet also authorized a delay in payment of a new property tax for those whose homes or businesses were left unusable. The property tax is a key part of Monti's strategy to heal Italian finances and keep the country from succumbing to the euro-zone debt crisis.
A government statement said quake aid would not necessitate resorting to new excise taxes to cover the expenses.
After his inspection, Monti expressed confidence there will be a "rapid" rebound for the region. Parmesan cheese production is among the industries hurt by the quake.
An Italian farm lobby group, Coldiretti, had pressed the government for urgent tax relief measures, saying nearly $190 million in property and other taxes were due by the end of June.
Coldiretti noted that the quake-hit area produces foods that are renowned abroad, including Parma prosciutto, Lambrusco wine, Parmigiano Reggiano cheese and Modena's balsamic vinegar. Pig and dairy farms and cheese-aging warehouses were among those reporting heavy damage.
Factories, homes, town clock towers, monuments, church steeples and roofs crumbled or partially collapsed in the 6.0 magnitude quake or during aftershocks. Nearly 6,000 people have been sleeping in tents or cars or temporarily sheltered in structures such as school gyms after their homes were either destroyed or left perilously unsteady by the quake.
Italy is still tallying up the damage to its artistic heritage, including churches, paintings and sculptures. France has offered a hand in restoring any damaged artwork, the Italian culture ministry said.
The offer came in a meeting on the sidelines of the Cannes film festival between Italian Culture Minister Lorenzo Ornaghi and his newly appointed French counterpart, Aurelie Filippetti, ministry officials said.