Posh Caracas Neighborhood Becomes Ground Zero Of Venezuelan Anti-Government Protests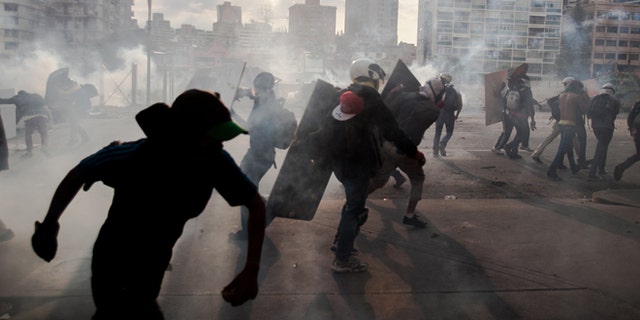 Caracas, Venezuela – A squad of motorcycle-mounted police wheels into an intersection newly seized from student protesters in a barrage of tear gas in eastern Caracas' wealthy Chacao district, an important center of resistance to Venezuela's socialist-led government.
From a side street, a young man in a phosphorescent green hockey mask and a white T-shirt advances, his throwing hand sheathed in a fire-retardant glove for returning tear-gas canisters.
The young man struts and taunts the cops, accompanied by comrades behind a makeshift metal shield with "SOS" painted on it. Gunpowder charges explode near the police. The officers retreat. But the withdrawal is tactical. Seconds later, a different set of motorcycle police in body armor roars uphill into the intersection, giving chase. Startled parrots scatter from a tree.
The police screech to a halt. A metal chain blocks the side street, and the masked youth escapes, while an audience inside an upmarket clothing store stays glued to the plate-glass windows. Officers take down the chain, but as soon as they leave two middle-aged men run out of an office building and stretch it back across the street.
In a month of almost daily street protests, a certain crude choreography between the opposing forces has emerged in this neighborhood that is at ground zero for Venezuela's worst unrest in more than a decade. Several hundred hard-core young people gather, erect barricades and hurl rocks, bottles and fireworks at police. Officers advance firing tear gas and plastic shotgun pellets to disperse the youths, drawing catcalls from people in apartment high-rises.
Painted on a wall near Altamira Square, where the protesters gather, is a motto from jailed opposition leader Leopoldo López that they have embraced: "He who tires first, loses."
The government claims these are all spoiled rich kids. But an informal census suggests hard-core protesters are increasingly from lower-middle-class and poor neighborhoods and are as fed up as anybody with the country's chronic shortages of staple food items, 56 percent inflation, runaway violent crime and lousy job prospects.
"I can't go out and protest in my neighborhood," said Vi Dibrahim Torrealba, a 29-year-old medical student from Catia, a working-class district. Why? Armed pro-government motorcycle gangs won't allow it, he and others say.
"The shortages affect me more than the rich," said Any Salazar, a 20-year-old communications student from Petare, Latin America's biggest slum. Crime, too. "I've been robbed three times this year."
The protesters are mostly male but include young women. A few use gas masks but others sport alternatives. White dust masks, ski and swim googles are employed. So are homespun solutions for the sting of tear gas, which can penetrate clothes. One is Maalox and water, sprayed on the eyes. Some coat their faces in toothpaste or slather Vicks VapoRub on their nostrils. Masks are common to protect identities and prevent reprisal. The Venezuelan flag is a popular accessory.
There has been vandalism, though little of it wanton. Protesters break apart walls for rocks and raid construction sites for barricade material. On Sunday, some burned a bus kiosk.
President Nicolás Maduro blames the protesters for several deaths, including a motorcyclist who rode into a cable strung across a street and an elderly woman that officials say died en route to the hospital because of traffic snarled by barricades. The government says 21 people have died since the protest wave began Feb. 12.
Most marches are peaceful, such as one Monday in the capital by doctors upset over acute shortages of medicines and medical supplies, but extremists on both sides have exacerbated tensions.
The western city of San Cristóbal has been especially restive. A student leader was killed there Monday night by a gunshot to the chest, Mayor Daniel Ceballos reported. National Guardsmen had battled protesters all day after attacking and dismantling barricades at key intersections. Ceballos said the city of about 600,000 people was "pretty well paralyzed."
Chacao's residents aren't experiencing anything like the mayhem of San Cristóbal, But many are less than thrilled by the inconveniences of playing host to nightly street battles: blocked streets, upturned sewer grates, fetid plastic bags of burned garbage.
They nevertheless happily take up collections and provide food, Maalox, eye drops and protective masks to the protesters.
"Who wants water!" shouts Vivian, 26-year-old sporting a Mexican wrestler's leopard skin-patterned Lucha Libre mask and stylish sneakers. She jogs around handing out bottled water and cookies as tear gas canisters fall nearby.
Vivian won't give her last name for fear of reprisal. She's from money but says class doesn't matter in this struggle: "We are fighting because we are all living poorly."
Follow us on twitter.com/foxnewslatino
Like us at facebook.com/foxnewslatino