Pope visits heart of conservative Catholic Mexico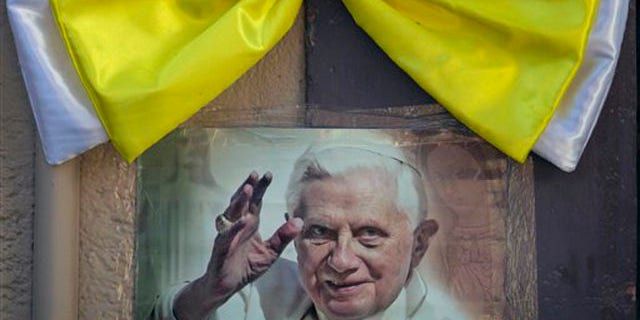 SILAO, Mexico – The last time a pope visited Mexico, more than 1 million believers cheered and wept in the streets of the capital. Aztec dancers shook rattles and blew conch shells inside the cathedral where John Paul II canonized the first Indian saint in the Americas.
It's been a decade since those ecstatic scenes capped the beloved pope's final trip to the country, and his successor arrives Friday to a much more subdued welcome.
Benedict XVI comes to a church battling to extend its political and social gains while overcoming painful setbacks that include legalized abortion and gay marriage in the capital of the most Catholic country in the Spanish-speaking world. It is also a nation grappling with a rampant drug war that has spread fear into once-tranquil regions such as this state of Guanajuato.
"There is a very immense peace that we need in Mexico because of the insecurity," said Marcela Arguello, a 26-year-old housewife who said she plans to join the throngs along the route of the papal motorcade through the city of Leon, the state's largest city.
Mexico has been traumatized by the deaths of more than 47,000 people in drug-related violence in less than six years, and while sunbaked, rolling Guanajuato is far from the major drug trafficking routes, the shadow of the conflict looms even here.
A recent series of apparently gang-related shootings have left some two dozen people dead in the state, which is noted for leather goods, automotive factories and picturesque tourist towns.
Yet even the drug cartels profess to be people of faith. At least 11 banners signed by the pseudo-religious Knights Templar gang were found in five municipalities of Guanajuato last week, including in Leon, offered peace during the papal trip.
But the mass excitement that greeted the past pope seemed to be missing as well.
By Thursday morning, Leon's Metropolitan Park, where officials are prepared for more than 100,000 campers, was empty apart from the usual joggers and families out for a walk.
Preparations were under way, though: City workers were trimming trees and bushes along the motorcade route, bleachers were going up and a truck rolled past Leon's cathedral spraying insecticide to kill any dengue-carrying mosquitoes.
The airwaves were full of public service announcements urging those attending open-air papal events to dress lightly, wear sunscreen and bring plenty of water. A high of 87 degrees Fahrenheit was forecast for Friday.
As many as 300,000 people are expected to gather for Mass Sunday, a large turnout even in a state that is 93.8 percent Catholic, the highest in the country. Guanajuato is also a stronghold of President Felipe Calderon's conservative National Action Party, which has roots in militantly Catholic organizations that formed decades ago to challenge an atheistic federal government.
Guanajuato's constitution declares that life begins at conception and bars abortion with extremely limited exceptions. Seven women were jailed there in 2010 for the deaths of their newborns and later released. The women said they had miscarriages, not abortions.
Benedict's church is encouraging more such laws across the nation, reacting partly to the legalization of gay marriage and abortion in Mexico City, the cultural and political center of the country.
At the same time, the nation's church leaders are fighting to overcome their share of the global child sex-abuse scandal, which destroyed the reputation of the most influential Mexican figure in the church.
The Rev. Marcial Maciel founded the Legionaries of Christ order, which John Paul II praised as a model of rectitude. But a series of investigations forced the order to acknowledge in 2010 that Maciel had sexually abused seminarians and fathered three children. Church documents released in a book this week reveal the Vatican had been told of Maciel's drug abuse and pederasty decades ago.
Setbacks such as the legalization of abortion and gay marriage have spurred the church to take a more active role in public life, said Miguel Bedolla, interim dean of Mexican American Catholic College, an institution affiliated with the Archdiocese of San Antonio, Texas.
"The church thrives when it encounters hardship," he said.
Calderon's government is backing legislation that would end a now-oft-ignored restriction on religious observances in public places, as well as a ban on religious participation in politics.
If approved, it could lay the groundwork for laws allowing church ownership of media and openly religious education on school property, said political analyst John Ackerman, of the legal research institute at Mexico's National Autonomous University.
"This opens the door for the church to start using public spaces," Ackerman said. "It has the full intention to be interpreted as occupying public spaces with religious ceremonies, that's what's on the table."
That builds upon the dramatic changes that John Paul II nurtured during his 26-year papacy, which saw Mexican leaders abandon a series of anti-religion laws so restrictive that the pope was technically breaking the law by wearing clerical garb in public on his first trip.
Benedict will meet with Calderon on Saturday, six days before the start of a presidential campaign that could unseat National Action after 12 years in the country's highest office. The church has repeatedly disavowed any political overtones to the pope's trip, and Calderon's office notes that his invitation to Benedict was first sent in 2007.
John Paul, however, made a point of avoiding visits to countries in the throes of election campaigns to not be seen as giving any political message.
Benedict has emphasized the need for Catholic politicians to stay true to their faith in public life. While he was head of the Vatican's doctrine office in 2003, then-Cardinal Joseph Ratzinger published a set of guidelines reminding Catholic leaders that the church's longheld opposition to abortion, euthanasia and same-sex marriage weren't up for negotiation.