Police Hunt for 'Barefoot Bandit' in Bahamas After Island Crash Landing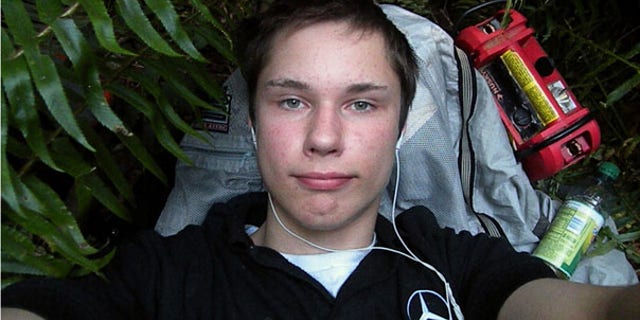 NASSAU, Bahamas — A teenage thief who police say has brazenly made his way across the U.S. has apparently graduated to international fugitive, crash-landing a stolen plane and disappearing into the small sun-soaked Abaco islands of the Bahamas.
Authorities are now hunting for Colton Harris-Moore — dubbed the "barefoot bandit" for allegedly committing some crimes while shoeless — on an island hosting hundreds of tourists for an annual sailing regatta that could help the lanky, blue-eyed teen pull off another escape.
"He's not in custody as yet. We're following some leads and we're working with the Abaco community to try and find him. Hopefully we should find him," Assistant Police Commissioner Glenn Miller said Tuesday.
The 19-year-old convict has been playing a cat-and-mouse game with authorities for more than two years, starting in Washington state with small-time burglaries and escalating with the possible theft of airplanes, boats and luxury vehicles.
The burglaries were largely concentrated in Washington state and the Pacific Northwest until recently, when small towns in the Midwest began noticing bizarre break-ins at airports and other locations.
Court documents say a family in Yankton, South Dakota, returned from a vacation in June to find a nude man in their home who cops believe was Harris-Moore. He pointed a laser beam at the homeowner's eyes and vanished.
From there, he is suspected of stealing several cars to travel from Nebraska to Iowa and then Illinois. He was later reported in an Indiana town where a 2009 Cessna 400 was stolen from a locked airport hangar, said Bruce Payton, airport director of the Monroe County Airport.
Payton said the plane was reported missing Sunday when the owner of the plane received a call from the U.S. Coast Guard that the plane's emergency locator transmitter was sending out a signal off the coast of the Bahamas.
On Great Abaco Island, a sparsely populated northern Bahamian island known for fishing and sailing, police handed out wanted posters appealing for information about Harris-Moore following the crash-landing in shallow waters there.
Island police launched a fruitless search for him Monday night in wooded areas around Sandy Point, near the mangrove wetlands at the island's southern tip where the plane landed.
A statement on the website of the U.S. Embassy in Nassau said Harris-Moore may have recent injuries and urged anyone who sees him to contact the nearest Bahamas police station. It said the FBI is offering a $10,000 reward for information leading to his arrest.
A U.S. Embassy spokesman, Jeff Dubel, said an extensive manhunt had been under way since the weekend.
"We have a lot of faith in the Royal Bahamas Police Force and the Royal Bahamas Defense Force and they are chasing all active leads," Dubel said.
The Cessna in question has a range of more than 1,400 miles with a full tank of gas — enough to make the 1,000-mile trip from Indiana.
FBI Special Agent Steven Dean in Seattle said a warrant for Harris-Moore was issued for the theft of a different airplane from Bonners Ferry, Idaho, on Sept. 29, 2009.
Harris-Moore grew up in the woods of Camano in Puget Sound about 30 miles north of Seattle.
His mother has said he displayed a love of thieving at a young age.
His first conviction — for possession of stolen property — came at age 12. Within a few months of turning 13, he had three more. Each brought a 10-day stint in detention or community service.
In 2007, he was sentenced to nearly four years in juvenile detention after being caught in an unoccupied home when a neighbor noticed the lights on. But he did well enough at the detention center that he was transferred to a halfway house, where he sneaked out of an open window more than two years ago.
He has since been linked to dozens of burglaries, including several airplane thefts. During the Winter Olympics in Vancouver, a plane that may have been stolen by Harris-Moore skirted a flight zone set up for the event. It never entered restricted airspace during its erratic journey, helping the pilot evade authorities.