Poland seeks permanent US troop presence to deter Russia
Thousands of American troops could be permanently stationed in Poland as a deterrent to Russia, the country's defense minister said Monday, adding that he's has held talks with U.S. officials.
Defense Minister Mariusz Blaszczak told state Radio 1 he's recently held talks in Washington about having a permanent presence of U.S. troops in Poland, where they are currently on a rotational, temporary, though open-ended mission.
Russia's annexation of the Crimean Peninsula from Ukraine has caused anxiety in the region, as Moscow has continued to support separatists in eastern Ukraine.
"The result of our efforts is that the U.S. Senate has contacted the Pentagon about an assessment of ... (the) permanent presence of U.S. troops in Poland," he said. "Such presence is of great importance because it deters the adversary."
U.S. and NATO troops were deployed to Poland and the region last year as a security assurance.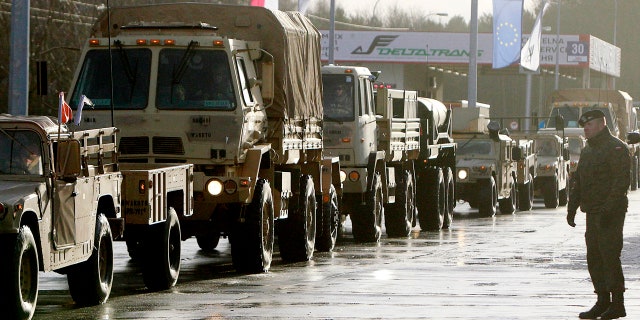 Russia has taken other steps seen as hostile in the region in recent years, and a Dutch-led investigation revealed Thursday that a Buk missile from a Russian military unit brought down Malaysia Airlines Flight 17 over eastern Ukraine in 2014. The passenger jet was on its way from Amsterdam to Kuala Lumpur, Malaysia, when it was blown out of the sky over Ukraine on July 17, 2014. All 298 passengers and crew were killed.
Cisco's Talos cyberintelligence unit also warned last week that it has a high level of confidence the Russian government has hacked at least 500,000 routers and storage devices in an attempt to cause another enormous cyberattack on Ukraine.
RUSSIA HACKS 500,000 ROUTERS IN ATTEMPT TO ATTACK UKRAINE
In Moscow, Russian President Vladimir Putin's spokesman, Dmitry Peskov, said that an expanding NATO's presence and infrastructure towards Russia's borders was an "expansionist" move.
"In general, when we record gradual expansion of NATO military structure towards our borders, when NATO infrastructure directly approaches our borders, this certainly does not contribute to security and stability on the continent in any way," Peskov told the TASS news agency. "On the contrary, these expansionist steps, certainly, result in counteractions of the Russian side to balance the parity which is violated every time this way."
Peskov said that a permanent deployment of U.S. troops in Poland is a "sovereign decision" but that the consequences for the "entire security on the continent" are evident.
The Onet.pl news portal reported that Poland is seeking the permanent deployment of a U.S. armored division and is offering up to $2 billion to help build the infrastructure. It says the defense ministry has written to U.S. politicians and the U.S. Congress with details of the proposal.
The ministry's press office confirmed to The Associated Press that such a document has been forwarded, but declined to give more details.
Fox News' Chris Ciaccia, Ryan Gaydos, and The Associated Press contributed to this report.