Pentagon to release report on security challenges posed by climate change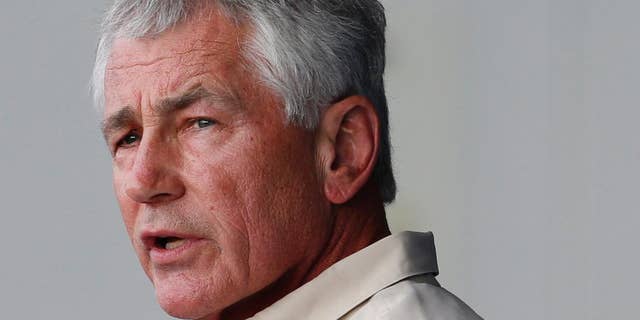 AREQUIPA, Peru – Defense officials say a report slated for release Monday will lay out plans for the Pentagon to get a better handle on how climate change will affect the military, and determine how best to deal with the challenges.
Defense Department leaders have long warned that the evolving change in climate patterns, resulting in rising seas and increased severe weather events, will have a broad and costly impact on the Defense Department's ability to protect the nation and respond to natural and humanitarian disasters in the United States and around the world.
Rising sea levels could eventually put vast stretches of Navy docks and other military infrastructure under water, in places like Norfolk, Virginia, Honolulu, Hawaii, and other coastal bases around the world. And increased natural disasters would create a bigger demand for military support for humanitarian relief.
U.S. Defense Secretary Chuck Hagel is expected to discuss the plan at a meeting of defense ministers from the Americas here Monday. More than 30 defense ministers from the Americas and some European nations are expected to attend.
"If you take just the one element of climate change, potential threats as sea levels rise; the coasts of countries, islands, present obvious security challenges for stability, security, national defense institutions," said Hagel during a stop in Santiago, Chile, over the weekend. "When there is any natural disaster event that occurs, there always is some element of a security risk; law and order, individuals attempting to take advantage of those catastrophes, adjusting to shifts in security requirements."
The issue is a deep concern to many South and Central American nations that have long stretches of coastline and are often hit with violent earthquakes and other disasters.
At the same time, there are worries that declining food or water supplies around the world could trigger rifts between nations and fuel violent extremist groups looking to take advantage of unrest and ungoverned spaces.
One key national security issue is the Arctic, where melting ice caps are opening up sea lanes, spurring competition for the lucrative oil and gas deposits and increasing the use of the icy waters for military exercises and transit.
Hagel pointed to the Arctic as an example when talking to reporters in Santiago.
"We see an Arctic that is melting, meaning that most likely a new sea lane will emerge," he said. "We know that there are significant minerals and natural deposits of oil and natural gas there. That means that nations will compete for those natural resources. That's never been an issue before. You couldn't get up there and get anything out of there. We have to manage through what those conditions and new realities are going to bring in the way of potential threats."
That, he said, is one of the ways that climate change may spill over into security issues.
Last November, at a security conference in Halifax, Hagel warned that the U.S. will assert its sovereignty in the Arctic, even as Russia, China and other countries stake their own claims in the largely untapped region.
Increased use of the Arctic will require the U.S. to fill wide gaps in satellite and communications coverage, add deep-water ports and buy more ships that can withstand the frigid waters or break through the ice.
In addition to those costs, the U.S. will have to address other changes in military installations around the globe. Officials do not yet have cost estimates.