Pentagon chief Hagel plans Monday visit to Pakistan; first US defense chief to go since 2010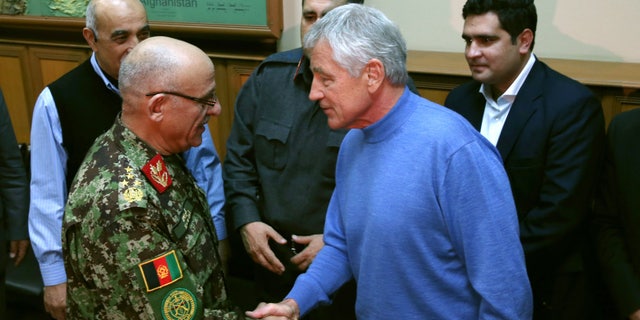 CAMP LEATHERNECK, Afghanistan – U.S. Defense Secretary Chuck Hagel says he'll visit Pakistan on Monday — a rare stop for a Pentagon chief in recent years.
U.S. relations with Pakistan have seesawed because of drone strikes and military operations along the Pakistan-Afghanistan border, though there have been some signs of improvement. Prime Minister Nawaz Sharif met with President Barack Obama in late October.
Hagel plans to see Sharif and other officials. Expected topics include Afghanistan and security threats.
Hagel made the announcement during a Sunday meeting with troops at Camp Leatherneck in Afghanistan.
The last U.S. defense secretary to visit Pakistan was Robert Gates in January 2010.