Part of Egyptian courthouse burns in clashes ahead of anniversary of uprising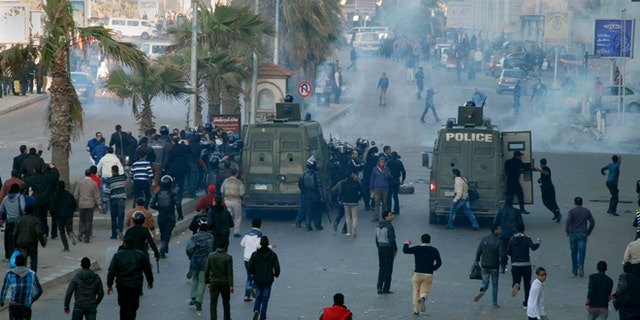 A courthouse went up in flames in Egypt's northern Mediterranean city of Alexandria during clashes between protesters and riot police Sunday, according to witnesses.
The blaze destroyed part of the building, burning some files. A security official said unidentified assailants were responsible.
This was the second straight day of clashes there ahead of the two-year anniversary of Egypt's uprising that toppled longtime ruler Hosni Mubarak.
Young men threw rocks at police, who responded with tear gas, outside the courthouse where six senior police officers were on trial for deaths of protesters during the nation's 2011 uprising.
Two years after the revolt was first sparked, families of the deceased remain frustrated over the pace of reform. Rights groups have criticized what they say remains a culture of police impunity.
Two trucks that transport riot police was set ablaze outside the courthouse, which is near the Italian consulate, after Judge Mohammed Hammad Abdel-Hadi resigned from the case on Sunday. He did not say why he quit.
His resignation means a new trial for the police officers accused of using excessive force that led to the deaths of protesters during the unrest that ousted Mubarak.
Alexandria's former security director is among those on trial. Mohammed Ibrahim has since retired, while the others are still working for the Interior Ministry.
A day earlier, protesters and riot police clashed outside the same courthouse. Families of the dead were angered by the judge's decision Saturday to bar the prosecution from calling witnesses to testify.
Since Mubarak was deposed on Feb. 11, 2011, nearly 100 police officers have been brought to trial on charges of killing and wounding protesters. All were acquitted or received suspended sentences. Mubarak and his former interior minister were sentenced to life in prison for failing to stop the killings. They were granted a retrial this month.
Around 900 protesters died in the revolt that began Jan. 25, 2011, with some 300 killed in Alexandria alone.
A fact-finding committee set up by President Mohammed Morsi, who came to office in June as Egypt's first freely elected president, submitted a 700-page report this month on protester deaths over the past two years. The commission is comprised of judges, rights lawyers, and representatives from the Interior Ministry and the intelligence, as well as families of victims.
The mission recommended that one body investigate the deaths, regardless of whether the accused was serving in the military, police or was a civilian.
Seventeen groups, among them activist organizations and the opposition Egyptian Social Democratic Party, urged Morsi on Sunday to implement the recommendation.
They said in a joint statement emailed to reporters that Morsi has only passed the report to the state prosecutor's office, but he has not taken any steps to implement its recommendations and that a law that states only the military can investigate itself is still in place.
"The result of the verdicts will be like that of the soldier who performed virginity tests on female protesters March 9," the statement said. A military tribunal cleared the military doctor who conducted the test, citing contradictions in testimony by witnesses.
Clashes between security forces and civilians have been common since the uprising. Police brutality under Mubarak's 29-year rule was one of the major causes of the 2011 revolt.
Police have yet to fully return to their duties since they abandoned their posts during the uprising. Since then, insufficient police presence has contributed a serious crime wave, with thefts and break-ins particularly rampant.
Clashes early Sunday between police and residents of a densely populated district just north of Cairo left four people dead and 12 wounded, including two officers and a police conscript, the Health Ministry said.
Security officials said the clashes began when a bystander in Shubra al-Kheima was hit by a stray bullet fired by police chasing a suspected drug dealer. Protesters used rooftops near the local police stations to fire at policemen and shower them with rocks. Police responded with tear gas.
Also, the security officials said gunmen on Sunday raided a post office in the Nile Delta town of Kafr el-Dawar, killing a police guard before making away with 2 million pounds (about $300,000).
All officials spoke anonymously as they were not authorized to talk to reporters.