Orangutan dead after being blasted by 130 pellet gun shots soon after another brutal orangutan murder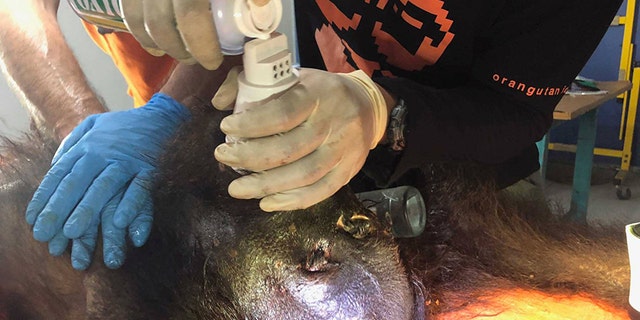 NEWYou can now listen to Fox News articles!
The body of a male orangutan was found in the Indonesian part of Borneo riddled with at least 130 air gun pellets, in the second documented killing of a member of the critically endangered species this year.
Authorities said the wounded orangutan also showed signs of machete wounds when it was spotted in a lake in the Kutai Timur district of East Kalimantan province on Sunday.
The orangutan, believed to be 5 to 6 years old, died early Tuesday.
"We found pellets all over its body. There were also a number of cut wounds that could have been caused by a machete," local police chief Dedi Austono told reporters. "It is the most bullet wounds we have ever seen on an orangutan."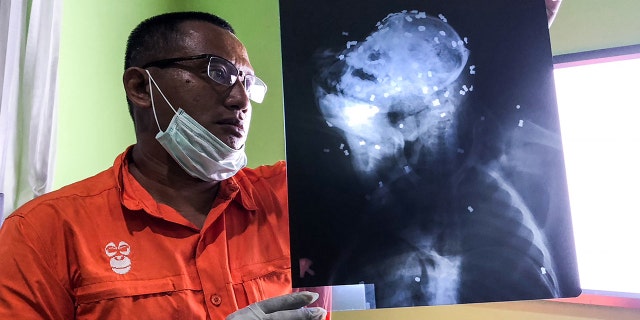 He said the killer is still at large.
According to the Center for Orangutan Protection, an X-ray showed at least 130 air gun pellets in the orangutan's body -- including more than 70 in its head.
The number of pellets were the "largest number [ever seen] in the history of conflicts between orangutans and humans that have occurred in Indonesia," the center said in a statement. "Weak case resolution and lack of public awareness [means] cases like this continue to recur."
The gruesome killing comes about a week after authorities arrested two rubber plantation workers for allegedly shooting an orangutan multiple times and then decapitating it.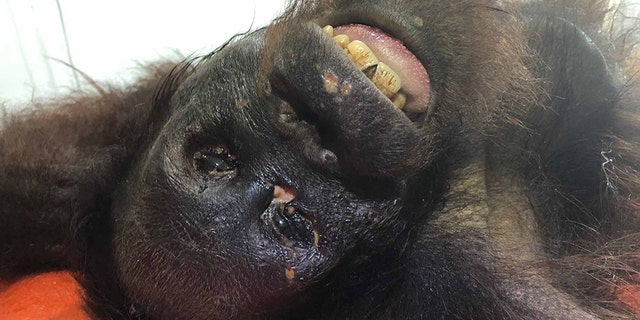 The orangutan's headless body was found floating in a river.
The number of orangutans in Borneo and on the Indonesian island of Sumatra -- areas where they're recognized as a separate species and classified as critically endangered -- has fallen precipitously since the 1970s.
Orangutans are a protected species in Indonesia and Malaysia, but deforestation has dramatically reduced their habitat and brought them into contact with farmers and plantation workers who kill them to protect crops, and for their meat.
About 40 percent of Borneo's forests have been lost since the early 1970s and another huge swath of forest is expected to be converted to plantation agriculture in the next decade.
"We are pushing law enforcement to solve the case as soon as possible," Ramadhani, a manager of habitat protection at the center who goes by one name, told AFP. "If they're serious, they should be able to arrest the perpetrators, just like what they have done in central Borneo."
The Associated Press contributed to this report.