One Killed as Two Explosions Rock Nairobi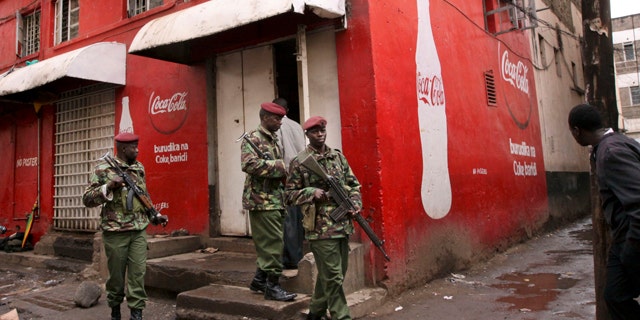 NAIROBI, Kenya – An explosion went off near a crowded bus stop Monday evening as people sought rides home, killing at least one person and wounding eight. The evening blast was the second of the day in Kenya's capital, twin assaults that came two days after the U.S. warned of possible terror attacks.
The U.S. warning had implied that the militant Somali group al-Shabab would carry out reprisal attacks in response to Kenyan troops' invasion of Somalia in mid-October. The Al Qaeda-linked group promised to unleash terror attacks in Nairobi in retaliation.
However, Monday's attacks appeared to target Kenyans, striking at a downtrodden bar and a bus stop in a working-class neighborhood.
Nairobi's provincial commissioner, Njoroge Ndirangu, said experts were still confirming what kind of device went off in the second blast, and that it was too early to tell if al-Shabab was involved.
The second blast went off in a blue-collar area of the city just outside the central business district. Throngs of people crowd the sidewalk and try to jam their way onto raucous minibuses known as matatus, the primary mode of transportation for Kenya's working class.
Peter Ndungu Kiarie, 35, said he was in his vehicle when he heard the second explosion and saw people rushing toward him. Many people were wounded in the legs, he said, suggesting the explosive device was lying on the ground.
"I assisted some until an ambulance came," he said.
The Kenyan Red Cross reported that one person was killed and eight others were taken to the hospital following the evening attack. A dozen people were wounded, three seriously, in the first blast at a blue-collar bar at around 1:15 a.m.
Police cordoned off the area but did not provide any immediate comment. Police have tightened security around hotels, bridges and fuel depots.
Al-Shabab is loosely affiliated with Al Qaeda and counts militant veterans of the Afghanistan and Iraq wars among its ranks. The militant group carried out twin attacks in Kampala, Uganda in July 2010 that killed 76 people.
Given Al Qaeda's preference for large-scale attacks, even the twin blasts in Nairobi do not bear the hallmarks of a major, well-planned terror assault. The U.S. warning on Saturday also said likely targets include shopping malls and night clubs where foreigners congregate.
The weapon used in the early Monday attack was a Russian-made F1 grenade, police said. A similar type of grenade was used in a downtown Nairobi attack in December 2010 at a bus station. That attack killed one person.
Three grenades exploded at a political rally in downtown Nairobi in June 2010, killing six people. In December that year, two traffic police died when they were shot and a third was seriously injured by a grenade.