Officials from North, South Korea to meet again Friday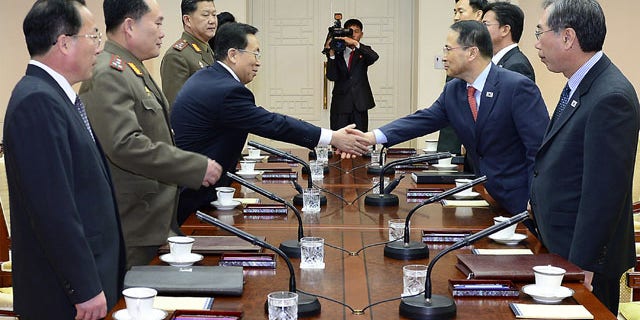 SEOUL, South Korea – Senior officials from the rival Koreas will meet Friday for a second time this week after their earlier talks ended with little progress because of North Korea's demand that Washington and Seoul delay annual military drills this month, South Korean officials said Thursday.
North Korea has been pushing for better ties with Seoul after raising tensions last year with repeated threats to launch nuclear war and efforts to restart production of nuclear fuel. Analysts say the impoverished North needs good relations with Seoul to win outside investment and aid. The talks come as the Koreas try to finalize arrangements for their first reunions of Korean War-divided families since late 2010. The emotional reunions are set to start next week.
At North Korea's request, senior officials from the Koreas met at a border village on Wednesday in their highest-level talks in years. It was seen as another sign that the North wants a quick improvement of ties and the resumption of lucrative cooperation projects with Seoul.
But the closely watched meeting ended without any agreement, with North Korea demanding that South Korea delay the start of upcoming springtime military exercise with the U.S. until the reunions end. South Korea dismissed the North's demand and said that smoothly arranging the planned reunions is a necessary first step toward improving ties, according to a statement from the South Korean Unification Ministry.
The family reunions are set for Feb. 20-25 at the North's scenic Diamond Mountain resort. The South Korean and U.S. militaries plan to kick off two sets of exercises on Feb. 24. One set of drills is to last until April 18. North Korea calls the drills a rehearsal for invasion, though the allies say they are defensive in nature.
The spat over the military drills indicates North Korea may cancel the part of the reunions that overlaps with the first two days of the military drills, said Koh Yu-hwan, a professor at Seoul's Dongguk University.
North Korea canceled planned family reunions at the last minute in September, and has recently threatened to scrap this month's reunions because of the military drills. North Korea also canceled for a second time its invitation for a U.S. envoy to visit the country to discuss the release of a detained American missionary, the State Department said Sunday.
On Thursday, however, North Korea requested another round of senior-level talks with South Korea at the border village of Panmunjom, and the South accepted the proposal, raising hopes the rivals may find ways to resolve differences on the drills and the reunions. The two Koreas are expected to discuss the same things they discussed Wednesday, according to the South's Unification Ministry, which is responsible for relations with North Korea.
The development came as U.S. Secretary of State John Kerry arrived Thursday in South Korea for talks on North Korea and other regional issues.
After high tensions last year, there has been a gradual softening in Seoul's stance toward North Korea in recent weeks, according to Robert Carlin, a contributor to 38 North, a North Korea-focused website, and a former U.S. State Department official.
"Depending on whether both sides are looking for progress or want to dig in their heels, this would seem to open the way to exploration of various compromises," Carlin, a frequent visitor to North Korea, wrote of the North-South talks in a 38 North commentary provided to The Associated Press. "When they want to be, both sides are capable of imaginative solutions to what at first look to be intractable problems."
South Korea has so far dismissed North Korea's recent proposals for a series of measures that the North says are needed to ease tensions, saying North Korea must first take steps toward nuclear disarmament and show how sincere it is about its stated desire to improve ties.
During Wednesday's meeting, South Korea urged North Korea to make a decision on nuclear disarmament, but the North refused to discuss nuclear issues, according to the Unification Ministry.
North Korea on Wednesday also took issue again with South Korean media reports critical of its leaders and political system and insisted that South Korea control its media, the South's statement said. South Korea rejected the North's demands.