Official: EU sanctions on Iran could be partially suspended by lunchtime Monday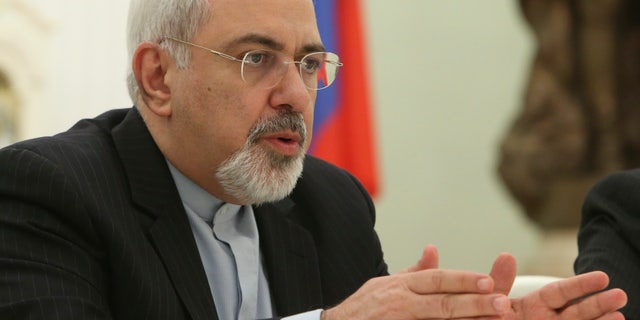 BRUSSELS – Sometime between breakfast and lunchtime Monday, a message will arrive in Belgium's capital that should set in motion an international diplomatic machine, affect billions of dollars blocked in banks and have repercussions from U.S. college campuses to oil tankers on the seas.
In Tehran, inspectors from the International Atomic Energy Agency are expected to certify that day whether Iran is respecting its engagement to rein in its nuclear program, which the Obama administration and U.S. allies fear is directed at producing a bomb.
If the inspectors are satisfied the Iranians are keeping their word, European Union governments, with the White House's blessing, are poised to deliver with surprising swiftness on their end of the deal: a six-month suspension of some of the sanctions that are hobbling Iran's economy.
Foreign ministers of Britain, Germany, France and the rest of the EU member countries will be in Brussels on Monday for one of their periodic meetings.
EU officials said Thursday the plan is that within 30 minutes of receiving an email, phone call or other form of communication from IAEA inspectors or their bosses in Vienna, the foreign ministers will unanimously approve the necessary changes in European Union legislation, and transmit their decision to the trade bloc's offices in the neighboring country of Luxembourg.
Within an hour or hour and half, the new regulations should be posted in the EU's official journal, published in Luxembourg, and take effect, a European Union official said.
All this should happen between 10 a.m. and noon Monday — "unless something goes wrong," the official said on condition of anonymity because he wasn't authorized to speak publicly about the matter.
Under the deal with Iran, brokered by EU foreign policy chief Catherine Ashton, Tehran will be able to progressively take possession of $3.6 billion it has been paid for oil sold to China, India, Japan, Turkey, Taiwan and South Korea. Those funds are blocked in those countries' banks because of U.S. sanctions.
Once the sixth-month suspension takes effect, Iranian officials could jet to Japan or India and carry "bags of cash" back home, the EU official said. But if the money is cycled through European banks, he said, Iranian authorities have been told that if they use accounts in the Central Bank of Iran or other Iranian financial institutions that are suspected of helping underwrite terrorism or the Iranian nuclear program, the transfers will be blocked.
The sanctions suspension also raises tenfold the ceilings for money transfers to and from Iran, and temporarily lifts a ban on transactions in gold and other precious metals.
An additional $600 million in Iranian oil sales proceeds will be freed up to help pay the educational costs of young Iranians, many of whom are enrolled in American colleges and universities.
The temporary lifting of selected sanctions will also allow European Union shipping companies to use their own tankers or charter third country-flagged vessels to transport Iranian crude oil to China, India, Japan, Turkey, Taiwan and South Korea.
Similarly, European insurance companies will again be able to insure shipments of Iranian crude to those nations.
For petrochemicals, the possibilities for European business should be even greater: between Monday and July 20, when the six-month suspension would come to an end, they could resume the buying and importing of Iranian petrochemical product to the 28-nation European Union.
That market alone used to be worth in the order of $400 million annually, EU officials estimate. So, there's been great business interest in the opportunities that the easing of the sanctions regime could bring.
Jos Douma, ambassador of the Netherlands to Iran, posted on his Twitter account this week that he had just held a "speeddate session" back home to accommodate Dutch companies interested in Iran.
All this is not a done deal yet. For one thing, "the IAEA and what will come from Tehran, (on that) we are a little bit less in control," the EU official said Thursday. "But we need that. That's for sure."
And in Washington, President Barack Obama is at odds with lawmakers who want to levy yet more sanctions on Iran to ensure that Tehran keeps its word. Fifty-nine senators now back a proposal for additional sanctions, which they say would increase the pressure on Iran to make concessions and fully dismantle — not simply slow — it nuclear program. The U.S. House overwhelmingly supports additional economic pressure on Tehran.
If Congress moves forward, its action could derail efforts to implement the deal crafted in Geneva because it would be a signal to Iran that Obama doesn't have the backing for it on Capitol Hill. Even though Obama has threatened to veto new sanctions on Iran, there might be enough votes in Congress to override his veto, making the next six-month phase diplomatically difficult for the U.S. to navigate.
___
Deb Riechmann in Washington contributed to this report.