North Korea possibly hiding missile operating bases despite denuclearization pledge, think tank says
North Korea is conning the United States, building up secret, smaller missile bases even after publicly touting the dismantling of its main launch site, according to a new review of satellite images by a top think tank.
Citing new satellite pictures, the Center for Strategic and International Studies' Beyond Parallel program identified what appears to be missile operating bases that have never been acknowledged by North Korean officials. CSIS' conclusions were not immediately independently confirmed.
The report identified about 15 to 20 bases being operated by the Korean People's Army's Strategic Force, based on information from officials in the government, defense and intelligence, as well as North Korean defectors.
"The ballistic missile operating bases are small, dispersed throughout the nation, and, with few exceptions, located in narrow mountain valleys," the CSIS report stated. "The deployment pattern has evolved over time, garnering a variety of descriptions, but today it is most commonly described as consisting of the three 'belts': the Tactical (or Forward), the Operational, and the Strategic (or Strategic Rear) based upon their physical distance from the DMZ [Demilitarized Zone]."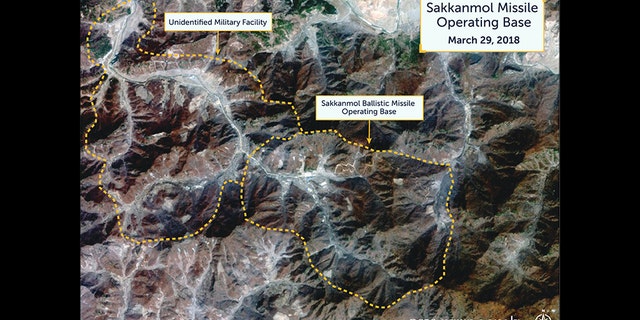 POMPEO'S MEETING WITH NORTH KOREAN OFFICIAL DELAYED AMID DENUCLEARIZATION DEADLOCK
The sites can build a slew of missiles for the regime, including intercontinental ballistic missiles that may have the ability to reach U.S. territory. Though the bases are not considered traditional launch facilities, missiles can be launched from the locations in an emergency, the report stated.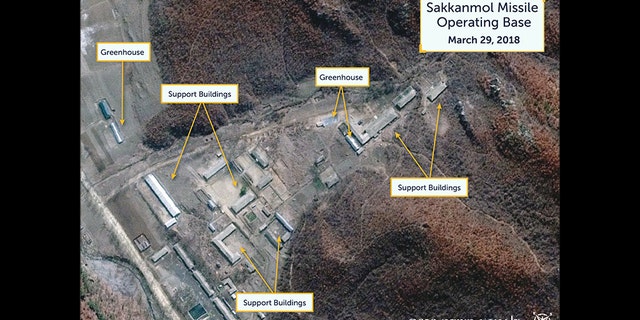 Satellite images of a possible base in Sakkanmol, about 50 miles from the Demilitarized Zone, allegedly show headquarter buildings, barracks, maintenance depots and entrances to alleged underground tunnels that would hide missiles and transport trucks.
The findings come amid a stalemate in denuclearization talks between the U.S. and North Korea. Secretary of State Mike Pompeo's meeting with his North Korean counterpart, Kim Yong Chol, was canceled last week. State Department spokesperson Heather Nauert said the meeting that was set for last Thursday in New York "will now take place at a later date."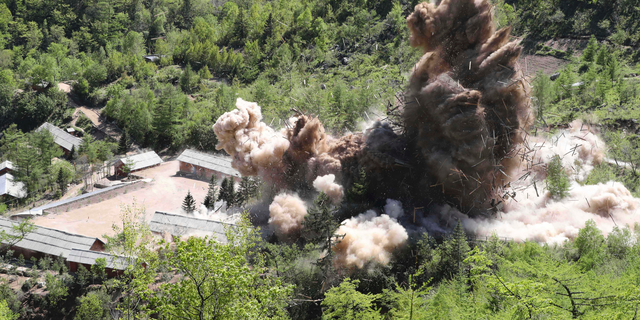 "We will reconvene when our respective schedules permit," Nauert said of the indefinite postponement. "Ongoing conversations continue to take place. The United States remains focused on fulfilling the commitments agreed to by President Trump and Chairman Kim at the Singapore Summit in June."
NORTH KOREA PREPARING TO LET INTERNATIONAL INSPECTORS VISIT NUCLEAR TEST SITE, REPORT SAYS
Trump also reassured critics that talks with North Korean leader Kim Jong Un were still occurring.
"We are in no rush," Trump said Wednesday. "The sanctions are on. The missiles have stopped. The rockets have stopped. The hostages are home."
But despite Trump's description of progress, North Korea has repeatedly lashed out at the U.S. and threatened to resume building up its "nuclear forces." The regime, through its state-run Korean Central News Agency, has accused the U.S. of "nuclear blackmail."
North Korea took a step toward denuclearization last month when Kim told Pompeo he was ready to allow international inspectors into its nuclear and missile sites — a step North Korea has repeatedly refused to take in the past.
One of the destinations would be the Punggye-ri nuclear test site, where North Korean officials invited journalists to watch a partial demolition in September.