North Korea preparing to let international inspectors visit nuclear test site, report says
North Korean officials are reportedly preparing to let foreign inspectors visit the nuclear test site the Hermit Kingdom promised to shut down, a report said Tuesday.
Rep. Kim Min-ki of South Korea's ruling Democratic Party said there have been "signs" North Korean officials are preparing to allow "outside experts" to survey the country's Punggye-ri nuclear test site, Yonhap News Agency reported, citing South Korea's National Intelligence Service.
"Signs have been detected that North Korea is doing some preparations and intelligence-related activity over a possible visit by outside experts, as it shut down the nuclear test site and demolished some of the missile launching facilities at Dongchang-ri," the politician said.
This would be the first time inspectors would be allowed to inspect the facilities where North Korea previously launched missiles and conducted several of its nuclear tests.
NORTH KOREA HAS UP TO 60 NUCLEAR WEAPONS, SOUTH KOREAN OFFICIAL SAYS
North Korean officials invited several international journalists to watch the demolition at its Punggye-ri site in May. They set off several explosions over the course of a few hours and allowed journalists to walk up into the mountains to watch.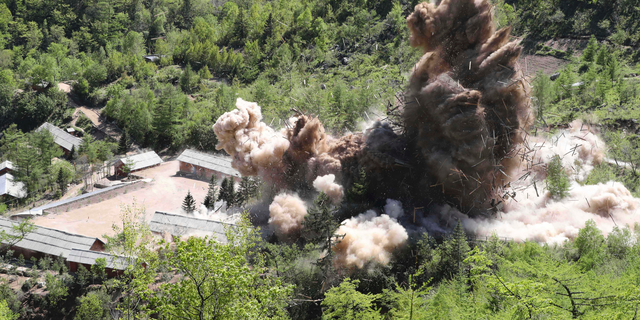 But the regime received widespread criticism when officials refused to allow international inspectors on the nuclear test site.
North Korean leader Kim Jong Un pledged to begin denuclearization when he met with President Trump in Singapore on June 12. Progress stalled when the Hermit Kingdom accused the U.S. of making "gangster-like" demands and cast doubt it would get rid of its nuclear weapons and missile program.
In September, South Korean President Moon Jae-in said Kim held another summit where the North Korean despot agreed to allow experts into its facilities if the U.S. made reciprocal measures. Moon said the two countries agreed the Korean Peninsula should become a "land of peace without nuclear weapons and nuclear threats."
U.S. Secretary of State Mike Pompeo also met with Kim in October. Pompeo told reporters he had a "good, productive conversation" with Kim.
"As President Trump said, there are many steps along the way, and we took one of them today," Pompeo said at the time. "It was another step forward. So this is, I think, a good outcome for all of us."