News anchor booed at graduation ceremony for anti-Trump remarks, speaking Spanish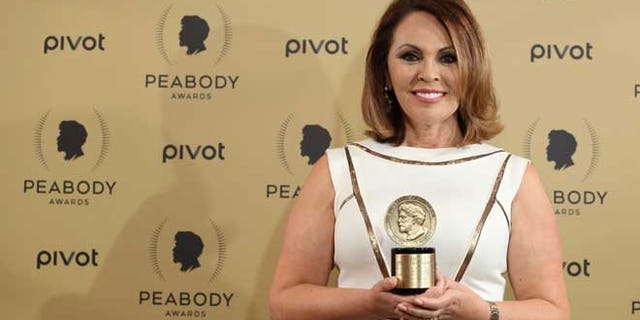 NEWYou can now listen to Fox News articles!
A commencement ceremony turned unruly over the weekend when the keynote speaker, María Elena Salinas, one of the most prominent journalists in Spanish-language news in the U.S., underscored the achievement of the Latinos among the graduates and made some remarks in Spanish.
Non-Latino graduates and their guests at California State University, Fullerton's College of Communications booed the Univision anchor and yelled at her to leave the stage, according to a student who was at the ceremony.
In social media posts following the incident, the Peabody Award-winning journalist said she didn't notice the uproar and chalked it up to "sad racism on the rise."
One person, whose handle is @JakeHolzschuh, responded on Twitter, "We were upset that your address was aimed at one ethnicity instead of the whole class. Had nothing to do with racism."
Salinas answered: "Unless you're Native American, we are all from immigrant families."
The journalist, who is one of Univision's most prominent anchors, delivered two commencement speeches at Fullerton. One was delivered at the university-wide graduation, where she was given an honorary doctorate, the other at the university's College of Communications commencement.
In tweets leading up to the ceremonies, Salinas said she was looking forward to addressing the graduates, noting that the university had the largest population of Latino students in the state. The university's website puts the Latino student population at slightly more than 37 percent.
The second, smaller address was the one that created sparks, according to a first-person account by graduate Denise De La Cruz in the Orange County Weekly.
De La Cruz describes Salinas' speech as "well received" until the anchor "became a little too Latino-centric and blatantly anti-Trump."
Salinas made a point of singling out and praising Latino graduates for their achievement, and then speaking in Spanish to address their parents and pay tribute to their sacrifices to make their children's achievement possible.
De La Cruz said that Salinas asked the crowd to repeat some Spanish motivational words after her, a move that prompted protests as some non-Latino students and parents in the crowd yelled, "What about us?"
"Tensions worsened as Salinas began offering advice to journalism students to use the tools of the media to rebut political figures such as Donald Trump," De La Cruz wrote. "That's when folks began yelling things to Salinas such as, 'Get off the stage!' and 'Trash!'"
De La Cruz said she cringed as tension rose, and she found herself in the midst of the verbal attacks on Salinas and the anchor's provocative comments.
At one point, part of the crowd cheered Salinas on while the other yelled insults and booed, the student said.
Eventually, De La Cruz said, Salinas "finally praised" students of other ethnicities, "but the damage was done."
Someone on Twitter noted, "when @MariaESalinas is delivering a beautiful keynote speech at a graduation & racist white people r flipping her off & yelling obscenities."
Salinas retweeted the comment and added: "That's not the 'America' we want."