New twist in Argentinian mystery: Key witness in prosecutor's death is nowhere to be found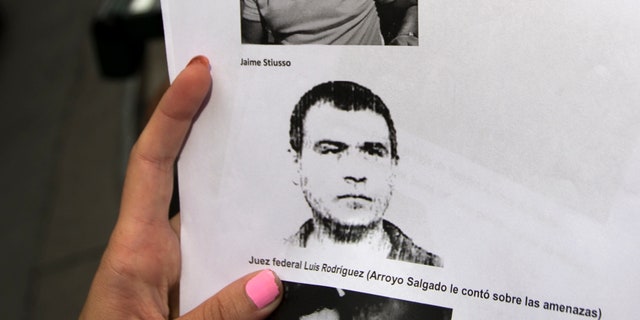 NEWYou can now listen to Fox News articles!
A former spy chief is being sought left and right in Argentina, one day after he was summoned to testify about the death of Alberto Nisman, the prosecutor who implicated President Cristina Fernández de Kirchner in the cover-up of Iran's alleged role in the bombing of a Jewish center in 1994.
"He was not at any of the properties registered as his own," said Oscar Parrilli, the Secretary of Intelligence of Argentina, according to Reuters.
The sudden disappearance of Antonio Stiuso, who closely assisted Nisman in his investigation, occurred one day after he was officially relieved of his constitutional obligation to secrecy.
"The president wants all the truth to be known, and wants Stiuso to tell us everything, from 1972 until now," Parrilli also said.
The 61-year-old, also known as "Jaime Stiles," began working for Intelligence in 1972 and rose through the ranks during the dictatorship (1976-1983). He remained a powerful yet shadowy agent until he was removed from his post by Fernández in December.
His testimony was thought to be key to determining whether Fernández would be able to survive the storm in the waning months of her presidency, or whether the deepening scandal would swamp her administration.
Without naming Stiuso specifically, Fernández has suggested rogue intelligence agents played a role in Nisman's death, and last week she urged Congress to disband the agency.
Stiuso had collaborated with Nisman during the 10-year investigation of the AMIA bombing, which killed 85 people. The president has suggested Stiuso fed false information to Nisman, implicating her and top administration officials in a cover-up of the bombing.
Fernández has denied any wrongdoing.
Stiuso, who press reports say ran a vast wire-tapping operation, is said to have been one of the most powerful people in the country, a figure similar to the controversial former head of the FBI, J. Edgar Hoover.
Most Argentinians, however, would be unable to recognize him. He keeps a very low profile and the only image circulated of him is a once-classified black and white photo of a young-looking man released a decade ago by one of his opponents.
People who have crossed him generally have not fared well.
In 2004, the Justice Minister Gustavo Béliz said during a television interview that Stiuso was a "dangerous" man who frequently broke the law. Soon after that, Beliz was forced to resign.
"Stiuso is an excellent professional," Miguel Angel Toma, a former Secretary of Intelligence, told the Associated Press. "I never gave him an order to do anything illegal and he never made me presume that he did these kind of [illegal] activities on his own."