NATO Bombs Tripoli, Combat Stirs Libyan East Front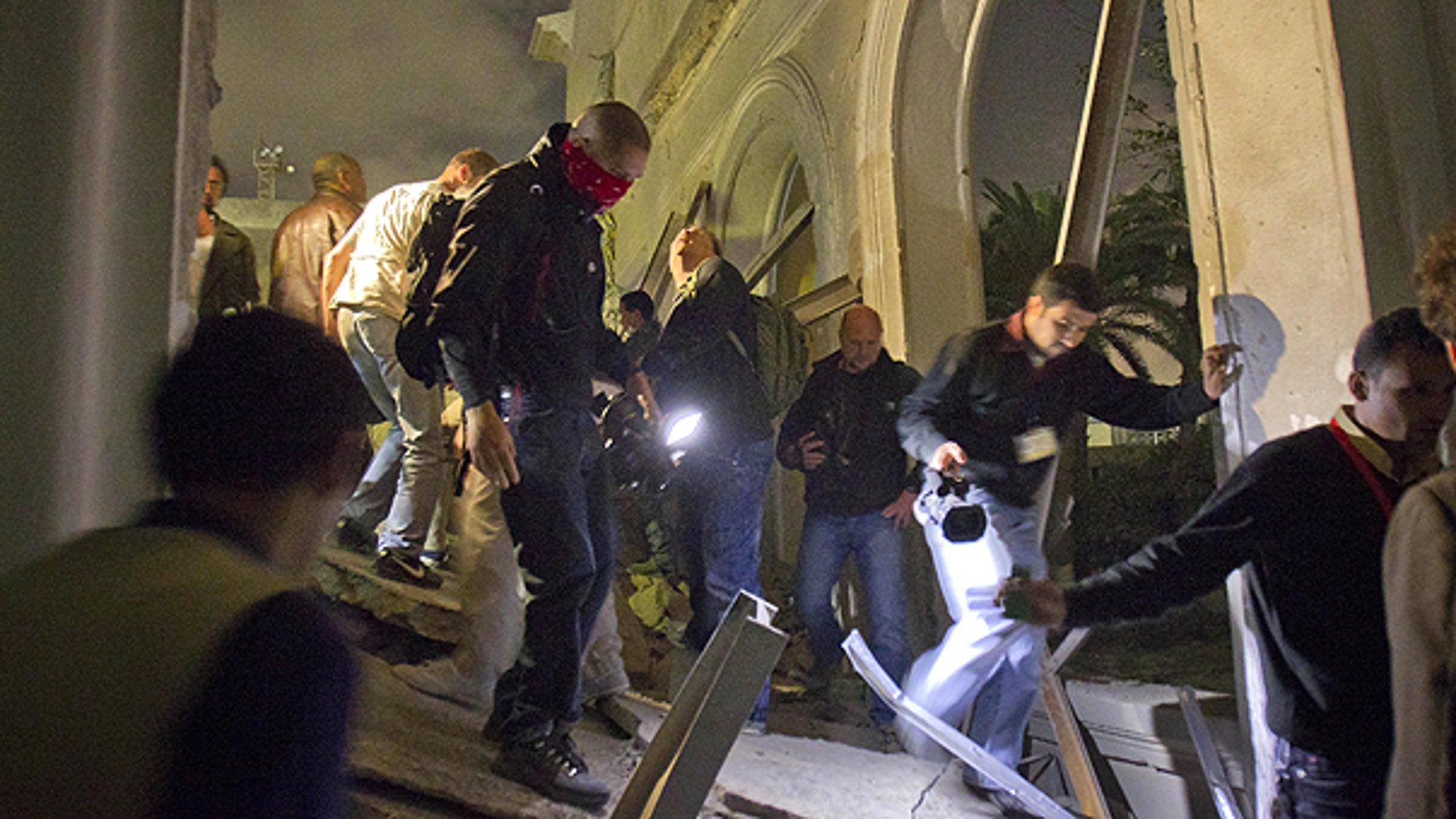 TRIPOLI, Libya – NATO warplanes struck Tripoli early Tuesday in the heaviest bombing of the Libyan capital in weeks, hours after an uptick in fighting between rebels and Muammar Qaddafi's forces on a long deadlocked front line in the country's east.
NATO struck at least four sites in Tripoli, setting off crackling explosions that thundered through the city overnight. One strike hit a building that local residents said was used by a military intelligence agency. Another targeted a government building that officials said was sometimes used by parliament members.
It was not immediately clear what the other two strikes hit, but one of them sent plumes of smoke over Tripoli. Libyan officials would not say what that strike hit but the smoke appeared to come from the sprawling compound housing members of Qaddafi's family.
Between explosions, an aircraft dropped burning flares. Some residents responded by raking the sky with gunfire and beeping their horns.
The Tripoli bombing came just hours after heavy fighting was reported Monday on the eastern front, south of Ajdabiya, a rebel-held town about 90 miles (150 kilometers) south of Benghazi, the rebel headquarters in the east.
Hundreds of rebels gathered at a checkpoint outside Ajdabiya on Monday afternoon, when an AP photographer counted about 100 pickup trucks coming back from the front, each carrying four or five fighters and some with mounted submachine guns.
The rebels, firing their weapons into the air as they shouted and danced, said they had been told that NATO was going to launch airstrikes on Qaddafi's forces and they had been ordered to withdraw temporarily from the front.
No overall casualty figures were available. Two ambulances came to the local hospital, and doctors said they carried the bodies of four rebels.
The cobbled-together rebel army — comprised of some deserters from Qaddafi's forces and many civilians — has been bogged down for weeks in the area around Ajdabiya, unable to move on to the oil town of Brega. The rebels say their weapons cannot reach more than about 12 miles (20 kilometers) while Qaddafi's forces can fire rockets and shells up to twice that distance. Brega has an oil terminal and Libya's second-largest hydrocarbon complex.
Rebel pleas for heavier arms from abroad have not met any response, although NATO is carrying out airstrikes on regime forces as many countries intensify their call for Qaddafi — Libya's autocratic ruler for 42 years — to leave power.
The rebels now control most of eastern Libya, and Qaddafi most of the west, including the capital, Tripoli. Exceptions in the west include pockets of embattled rebel-held towns along the border with Tunisia, and Misrata on the coast.
Also Monday, Qaddafi's forces shelled a northern Misrata neighborhood where many families from the besieged city center have fled to, said Abdel Salam, who identified himself as a resident-turned-fighter. He said NATO airstrikes hit targets on the city's southern edges, one of the areas where government forces have been concentrated after rebels pushed them back.
The fighting was threatening the port area, the city's only lifeline, preventing some aid ships from docking, Abdel Salam said. A ship carrying medical supplies and baby food was able to dock in Misrata on Monday, according to the International Committee of the Red Cross.
It was the first ship to arrive since Wednesday, when Qaddafi's forces fired a barrage of rockets into the port as the International Organization of Migration was evacuating nearly 1,000 people, mainly African migrant workers.
On Saturday, a rocket attack set the city's main fuel depot ablaze, destroying the main supply for vehicles, ships and generators powering hospitals and other key sites in a city darkened by electricity cuts.
The ICRC said it would use the chartered ship as a floating platform as its team works to reduce the danger of unexploded weapons on the streets of Misrata, visit prisoners detained by the rebels and help reunite families that lost contact when the city center was bombed.
The ship brought in 8,000 jars of baby food as well as urgently needed surgical instruments and medical dressings.
The ship docked safely though Qaddafi's forces were seen dropping mines into the port on Saturday from a white helicopter painted with a red cross, according to rebel spokesman Abdel-Hafidh Ghoga and Misrata residents.
The ICRC said it was concerned by those allegations of "a serious misuse of the emblem" designated by the Geneva Conventions to be used solely by people providing medical or other humanitarian aid.
A civilian spokesman for the rebels in Misrata, lawyer Abdulbaset Abumzirig, said Sunday that 30 to 40 people are injured daily and 10 to 15 are being killed by the bombardment. The city has been under siege for two months, and local doctors say the total death toll is more than 1,000.
In Tripoli, government escorts did not allow reporters to come near the site of one building that was hit in the NATO air attack early Tuesday. Local residents said the several-story building, which had buckled from the bombing, was used by a military intelligence agency.
Reporters were shown damage done to a nearby hospital where some windows were smashed and some ceiling vents fell to the ground. A hospital physician, Dr. Mustafa Rahim, said one child was badly injured but would not allow reporters to see him, saying the four-year-old boy was in intensive care.
Another strike targeted a building that two employees said was used by parliament members and housed a library for research into Qaddafi's writings. It was the second time the building had been targeted in the past week, they said.
A hole was punched into what appeared to be its basement and thick blocks of concrete were reduced to dusty rubble.
The handsome pastel-colored building was built by Italians when they ruled Libya in the 1920s. The building, which once served as Italy's naval headquarters, was considered an iconic Tripoli site.
It was not immediately clear what the other strikes targeted. Reporters may not leave their Tripoli hotel without government escorts.
Meanwhile, the U.N. humanitarian chief, Valerie Amos, asked all sides in the fighting for a pause in hostilities to allow food, water, medical supplies and other aid to be delivered to needy populations.
She told the Security Council the pause would also allow humanitarian workers to evacuate people from other countries who still remain in Libya and would give civilians a respite.
___
Faul reported from Benghazi, Libya. AP photographer Rodrigo Abd in Ajdabiya contributed to this report.