Nationalist Nikolic sworn in as Serbia's president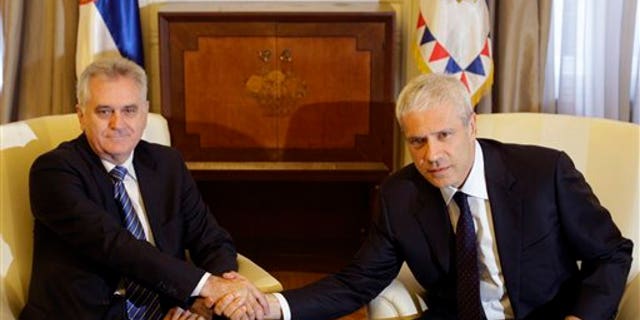 BELGRADE, Serbia – Former nationalist opposition leader Tomislav Nikolic was inaugurated as Serbia's new president Thursday, blasting his pro-European Union predecessor for the country's deep economic and social problems and further fueling political turmoil after his surprise election.
Nikolic, who claims to have shifted from being staunchly anti-Western to pro-EU, was sworn in for a five-year term at an inaugural session of Serbia's new parliament.
Nikolic defeated predecessor Boris Tadic in the May 20 presidential runoff, and Nikolic's populist Progressive Party won the most seats in the 250-member assembly.
But because Tadic's pro-EU Democrats have more allies in the parliament to form the next government, Nikolic may be forced to propose Tadic as the next prime minister — a position more powerful than the presidency.
In his inaugural speech, Nikolic urged quick formation of the new government, but indicated that his political cohabitation with Tadic will be stormy.
"Serbia is a country shaken by heavy crisis," Nikolic said, blaming Tadic's former government for crime, corruption, unemployment and economic mismanagement.
"I want a different Serbia," Nikolic said. "Serbia which is free of fear for its future, with its doors opened to both the West and the East."
Several thousand Nikolic supporters greeted him with cheers in front of parliament in downtown Belgrade, but jeered Tadic as he arrived for the inauguration.
The EU has urged Nikolic to pursue the course to membership like his predecessor, and to continue to seek reconciliation with Kosovo, the former ethnic Albanian-dominated province which declared independence in 2008. Although the United States and most EU countries recognized Kosovo's statehood, Serbia and Russia have refused.
Nikolic said he envisages Serbia as an EU member, but one "which will never give up the claim over its Kosovo."
He added that whatever future major decision Serbia's government makes on Kosovo and the EU, it must be approved in a popular referendum.
"I want Serbia to become an EU member, but this is a long road mostly due to the mistakes of the previous government, the corrupt state," Nikolic said in an interview with Vecernje Novosti newspaper published Thursday. "The EU is important to me, but Serbia is even more important."
Although Nikolic, a self-proclaimed "Russia lover," visited Moscow only days after he won the election, his first official foreign presidential visit will be to the EU headquarters in Brussels, Belgium, on June 14.
"Whatever I find out in Brussels ... I will share with the citizens, however hard it may be, or contrary to my beliefs," Nikolic told reporters after his inauguration.
___
Jovana Gec contributed to this report.