Murder rate in Mexico in first half of 2016 went up 15.4 percent, official report says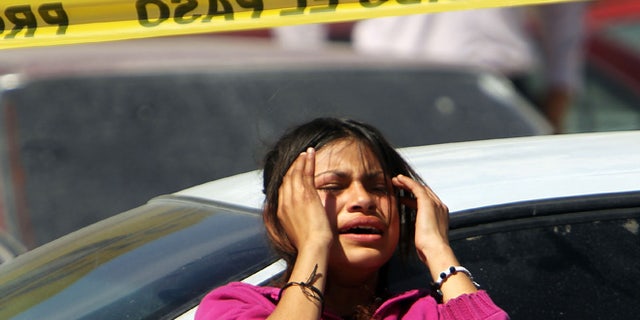 NEWYou can now listen to Fox News articles!
MEXICO CITY (AP) – Mexican government figures released Thursday say homicides rose 15.4 percent in the first half of 2016 from the same period of last year.
The 9,413 killings committed from January through June were also 6 percent higher than the number of homicides in the last six months of 2015.
While the figures remained below those for 2011, the peak year for violence during Mexico's drug war, they marked a continuing rebound in killings. Almost all the progress that President Enrique Pena Nieto had boasted of in reducing Mexico's violence has now been erased.
The current number of killings almost matches the first six months of Pena Nieto's administration in 2013, when there were 9,502 homicides.
The drug-plagued state of Guerrero continued to lead Mexico in homicides, and big increases were seen in the state of Baja California, Michoacan and Veracruz.
Against that backdrop, Mexico's normally less-violent southern state of Oaxaca on Thursday saw its second multiple killing in less than a week.
The Oaxaca state prosecutor's office said a man, a woman and their son were shot to death in the southern city of Juchitan. The office said a hand-lettered sign left at the scene suggested the slayings were linked to a dispute between criminal gangs.
The killings came three days after eight adult members of a family were killed in the popular Oaxaca beach resort of Puerto Escondido. The prosecutor's office said that the victims were shark fishermen and that an early line of inquiry was whether they might have been involved in other activities while at sea.
Oaxaca has largely avoided the drug violence plaguing other states.
Meanwhile, in the neighboring state of Veracruz, state prosecutors reported Thursday they found the bodies of four men and two women dumped on the side of a road. The two women had been reported missing over the weekend in the port city of Veracruz along with a police detective, who was also among the dead.