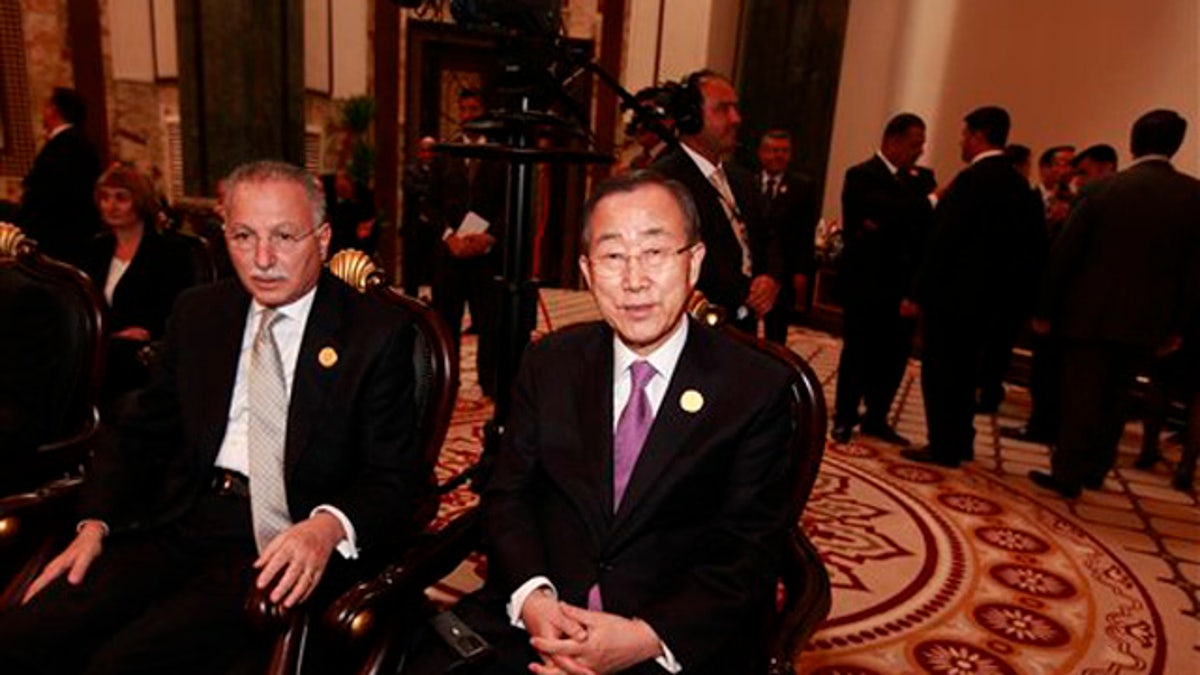 BAGHDAD – Arab leaders on Thursday urged a peaceful solution to the crisis in Syria at a landmark summit in Baghdad marred by stayaways and a mortar attack near the Iranian embassy as the meeting opened.
Only nine visiting leaders of the 22-member Arab League turned up for the summit, the first to be held in the Iraqi capital in more than 20 years, which was opened with a call for peace by UN chief Ban Ki-moon.
Reflecting the rift between Arab countries on steps they believe should be taken to end the bloodletting in Syria, officials said a final summit statement would not call on President Bashar al Assad to quit nor consider arming the rebels against him, as some states have demanded.
Qatar and Saudi Arabia, two states seeking the most aggressive measures on Damascus, only sent envoys to Baghdad.
Qatar explained its decision as being designed to send a "message" to host Iraq, which has taken a softer position than most other League members on its neighbor and trading partner.
Even as the summit got underway, Syrian security forces assailed rebel strongholds across the country, a day after Assad's regime made clear it would not abide by any Arab League initiatives.
While regional officials have pushed to focus on a wide variety of issues, ranging from the Arab-Israeli conflict to jump-starting the bloc's economies, the summit was focused on Syria, where monitors say nearly 10,000 people have died in a yearlong revolt against Assad's rule.
In his speech opening the summit, Ban called for Syrian authorities to implement UN-Arab League envoy Kofi Annan's peace plan and for an end to the violence ravaging the country.
"It is essential that President Assad put those commitments into immediate effect. The world is waiting for commitments to be translated into action. The key here is implementation. There is no time to waste," he said.
"We reiterate our call for a peaceful solution to meet the expectations of the Syrian people without any foreign interference," Iraqi president Jalal Talabani meanwhile told the summit.
Arab leaders have said they will at the summit call for talks between the Syrian government and opposition based on a six-point peace plan proposed by Annan, according to a draft copy of the Baghdad Declaration.
The region's leaders "denounce the violence, murder and bloodshed, and are in favor of a political solution via national dialogue," according to the document, to be issued after the summit.
Iraqi foreign minister Hoshyar Zebari said Wednesday that the summit would steer clear of the strong moves advocated by Qatar and Saudi Arabia to resolve the Syrian crisis.
"The Arab League initiative is clear and did not demand that Bashar step down," Zebari said after a ministerial meeting. "We [foreign ministers] also did not ask for that, and the upcoming decision will not go in this direction."
Asked whether the arming of Syrian rebels was raised, Zebari said, "We did not discuss this subject at all."
The two issues have pitted countries such as Qatar and Saudi Arabia, which have called for Assad to leave and advocated sending arms to rebel groups, against those pushing for political reconciliation, such as Iraq.
In all, nine visiting regional leaders attended the summit from the 22-member Arab League. Syria, which has been suspended from the pan-Arab body, was not invited.
Among them was the emir of Kuwait, Sheikh Sabah al Ahmad al Sabah, who was on the first visit by a Kuwaiti head of state in more than 20 years.
Iraq has deployed 100,000 security forces in an effort to prevent attacks on the summit, and officials closed down swaths of roads and mobile networks and shut down airspace.
Despite the razor-tight security operation that effectively shut down Baghdad, a mortar round struck near the Iranian embassy on the outskirts of the heavily-fortified Green Zone where the summit was being opened, a police official said, adding that the blast did not cause any casualties but damaged the embassy.
Smoke could be seen rising from the site, and security forces members, military vehicles and firefighters raced to the scene of the blast.
The Honein jihadist forum has included several recent messages from users threatening attacks on the Arab summit, using mortar shells as well as with suicide bombers.
A week ago, al Qaeda-claimed attacks nationwide killed 50 people, including three in a car bombing opposite the foreign ministry, and on Tuesday, a suicide bomber at a police checkpoint in west Baghdad killed one policeman and wounded two others.
Egypt's Arab League ambassador, Afifi Abdel Wahab, told journalists that the pan-Arab body's next summit will be held in the Qatari capital, Doha.