More than 700 mayors in Spain could face arrest over Catalan independence vote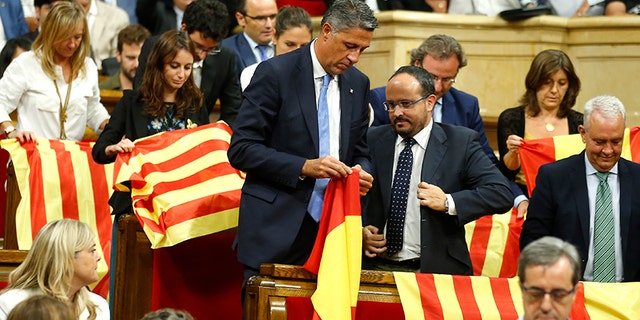 Spanish police ordered the arrest of more than 700 Catalan mayors if they don't comply with an investigation into their cooperation with a referendum on independence that has been suspended by a court, prosecutors said.
Jose Manuel Maza, Spain's top prosecutor, ordered provincial prosecutors Wednesday to investigate 712 mayors who have already offered municipal facilities for the Oct. 1 vote. He said regional Catalan police are to arrest them if they don't show up for testimony.
The pro-independence coalition ruling the region managed to get enough votes to pass the referendum last week despite great opposition by other members and the Spanish government in Madrid.
Spanish Prime Minister Mariano Rajoy's conservative government has pledged to stop the referendum. He was granted a suspension by the Constitutional court while judges decide on its legality.
The Catalan coalition has vowed to hold the vote despite being barred from doing so and has asked the 947 mayors in the northeastern region to provide facilities for the vote.
The Catalonia region, which includes Barcelona, generates a fifth of Spain's gross domestic product. It self-governs in several important areas, such as police, health and education. But key areas such as taxes, foreign affairs and most infrastructures are in the hands of the Spanish government.
Both Catalan and Spanish are spoken in the region of 7.5 million people, and many Catalans feel strongly about their cultural heritage and traditions.
The pro-independence bloc has argued that full control would benefit Catalonia, an idea that gained support in times of high unemployment and harsh austerity measures as a result of Spain's 2008-2013 financial crisis.
The Associated Press contributed to this report.