Model UN Program Inspires Inner City Kids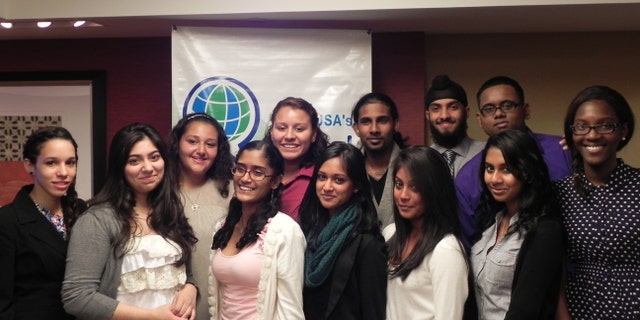 Protests ensue across America as unemployment continues. Europe teeters on the brink of financial ruin. Genocide in the Sudan and Darfur leave thousands murdered.
In a time when many feel disillusioned by the dark headlines around them, a class full of teens in inner city John Adams High School in Queens, New York accepts the challenge to solve world conflicts and global problems – a journey that would eventually change their lives forever.
This is the premise behind a new documentary released by the United Nations Association of the USA (UNA-USA) Global Classrooms called Decorum (VIDEO BELOW) that tells the story of how a motivated teacher named Michael Budhu guides his students' transformation through the Model United Nations program.
Model UN is a program or club that educates students in current events, topics in international relations, and diplomacy by simulating the actual functions of the United Nations. Students come together every year and attend conferences in which they have to write resolutions, research, compromise, and speak publicly on global affairs.
Traditionally the program has been associated with affluent schools and communities that can for instance offer a multitude of AP courses.
John Adams High is an example of the UN's growing outreach to inner city America through their Global Classrooms program.
"Inner city schools have that inner city culture where it's hard for kids to think outside of the box. As far as a teenager is concerned their world ends where their school boundary ends," Budhu tells Fox News Latino. "A program like this allows inner city school children to meet kids from private schools and schools from all over the world."
An experience he says is invaluable.
Each year Model UN programs around the country prepare for the biggest conference of them all – the New York City Model UN conference hosted in the United Nations building. Hundreds of teens from all over the world sit in the General Assembly in a two day bid to save the world from itself, but little do they know some end up saving themselves.
"It's not about Far Rockaway and Brooklyn anymore, there's a bigger world out there," the army veteran turned teacher says. "You can see how certain kids who would have dropped out of high school or gotten involved in gang violence how these kids pulled them into my class and made them apart of my class."
Budhu recalls one student he had who had never been out of Queens, New York. In fact, his trip to the United Nations building would be the first time he would set foot on the island you know as Manhattan. For this one student the Model UN conference marked the first time he would see fellow peers in dress shirts, dress pants, and dress shoes.
"When he went back to school after the conference, that's how he dressed until the day he graduated," Budhu recalled. "Pants no longer sagging, no longer wanting to fit into pop culture, he saw what it is he needed to do to be successful in a world outside of high school."
Megan Aguirre, 17,is a senior at John Adams and a member of Budhu's Model UN class. Aguirre went to this past years Model UN New York conference and spoke at the "How to bring unity in a country through sports?" assembly.
"I've always been the loud one in the family," the Latina teen says. "[But now] I've learned to get up to speak. To be opinionated and to be strong about it."
All of a sudden, Aguirre has introduced her own family to a new brand of television – news.
"My mom sees how different I am when I watch the news," she said. "She asks me: 'What do you care?'
"And I say, 'because you have to. You cant be naïve, you cant be secluded, to yourself,'" she added. "You have to think about other people."
Aguirre is now looking to be the first grandchild in her family to go to college– something that wasn't in the plans before joining Model UN.
"If I pursed my goal of wanting to be a dancer I wouldn't have found Model UN," she says. "My goal now is to be a psychologist for children and I'm starting college applications. It's just a passion."
Even the new UNA-USA Executive Director, Patrick Madden, is floored by the success of the program.
"They are talking about world issues that adults can't even begin to scratch the surface of understanding – they not only understand the issues but they are ready to debate the issues. It really shows a level of educational engagement that we need these days."
Decorum is being released in three parts over the next few weeks via this YouTube channel. The hope is that it will show people worldwide the importance of bringing an educational experience like Model UN to underserved public schools worldwide through Global Classrooms.
"There's a disconnect between the material that we need to teach students in order to graduate high school, and what concerns them," Budhu says in the film. "I think Model UN helps bridge that gap."
Click here for more good news stories.
Follow us on twitter.com/foxnewslatino
Like us at facebook.com/foxnewslatino