Mexico sending more troops to violent border zone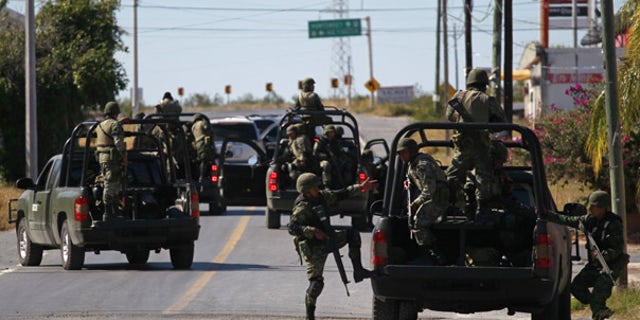 MEXICO CITY – Mexico's violent northeastern corner near the U.S. border will get a boost in troops and federal police as the government tries to wrest back control of an area that has become a battleground for two rival drug cartels.
The new mission, "Coordinated Operation Northeast," aims to reinforce government authority in Tamaulipas and Nuevo Leon — the two states under the heaviest attack since the formerly allied Gulf and Zetas gangs split.
The government also wants to keep the cartels from regrouping after the loss of key leaders, federal police spokesman Alejandro Poire said Wednesday.
But Poire gave no details on the operation, saying only that there will be a "significant" increase in forces. He answered no questions at a media briefing with Mexico security officials and the two state governors, and the government later said it would not provide numbers for its forces now in the area or the level after the reinforcements because of security reasons.
Intense cartel violence has gripped Nuevo Leon in and around the industrial, high-tech hub of Monterrey, once one of Mexico's safest large cities. Bloodshed also is high across all of Tamaulipas, which shares a 560-mile (900-kilometer) border with Texas and some of the busiest border crossings in the world opposite the U.S cities of Laredo, McAllen and Brownsville.
"These are geographic factors that have made the area a coveted route for organized crime in the trafficking of drugs and people and in receiving illegal money and arms coming into Mexico," Poire said.
Since the falling out between the Gulf cartel and the Zetas, its former arm of assassins, Nuevo Leon has seen regular gang roadblocks on city streets, assassinations of local politicians and shootouts and grenade attacks that have killed innocent civilians.
In Tamaulipas, where mayors and a gubernatorial candidate have also been killed, gang violence has closed schools, made roads unsafe for travel and blocked some government oil workers from reaching installations.
Earlier this month, residents fleeing gunbattles in the state's once-picturesque town of Ciudad Mier ended up in Mexico's first drug-war refugee shelter. In another part of Tamaulipas, 72 migrants trying to reach the United States were found slaughtered earlier in the year.
Residents have accused the federal and state government of being conspicuously absent, leaving them in the crossfire of military-strength weaponry wielded by drug gunmen.
Local media has been intimidated or co-opted out of covering the drug war, leaving Tamaulipas cities such as Reynosa to warn residents during outbreaks of violence via Twitter and Facebook.
Poire said government forces are present and touted recent military and police blows against the two cartels: the killing earlier this month of Gulf cartel leader Antonio "Tony Tormenta" Cardenas Guillen, the 2008 capture of a founding member of the Zetas, Jaime "The Hummer" Gonzalez Duran, and the arrest of eight presumed Zeta members in the killing of the migrants.
Katherine Cesinger, spokeswoman for Texas Gov. Rick Perry, praised the buildup.
"We are encouraged by these reports that Mexico is increasing the patrol presence along their border in an effort to shutdown the ruthless drug cartels," she said. "We share the common goal of keeping our communities safe."
The Mexican government has similar operations in other parts of country, including Chihuahua state, where the border city of Ciudad Juarez across from El Paso, Texas, is considered one of the most violent cities in the world. Such efforts so far have failed to quell drug violence, which has killed 28,000 people since President Felipe Calderon launched his offensive on organized crime in late 2006.
An opinion poll released this week said 49 percent of Mexicans believe the government's drug war has been a failure, compared to 33 percent who said it has been a success.
___
Associated Press writer Terry Wallace contributed to this report from Dallas, Texas.