Mexico earthquake death toll surpasses 200
Desperate searchers shouted "quiet" and listened for faint voices in the rubble where a Mexican school once stood, as rescuers used trained dogs and their bare hands to reach any survivors of Tuesday's magnitude-7.1 earthquake that killed more than 200 people.
Mexican President Enrique Pena Nieto declared three days of national mourning on Wednesday to honor the victims in the country's deadliest earthquake since 1985. The powerful quake struck near the town of Raboso in Puebla, about 76 miles southeast of Mexico City, the U.S. Geological Survey reported. By Wednesday, the death toll rose to 230 after the quake toppled homes, schools and apartment buildings.
"We dug holes, then crawled in on our bellies," volunteer rescue worker Pedro Serrano, 29, a doctor, told The Associated Press. "We managed to get into a collapsed classroom. We saw some chairs and wooden tables. The next thing we saw was a leg, and then we started to move rubble and we found a girl and two adults — a woman and a man."
At least 25 bodies were recovered from Escuela Enrique Rebsamen – all but four of the victims were children. Serrano said he found all the people in a classroom dead, and heard "small noises" near the site, though it's unclear which direction it was coming from. A mix of neighborhood volunteers, police and firefighters used trained dogs and their bare hands to search through the school's rubble. The crowd of anxious parents outside the gates shared reports that two families had received Whatsapp messages from girls trapped inside, but that could not be confirmed.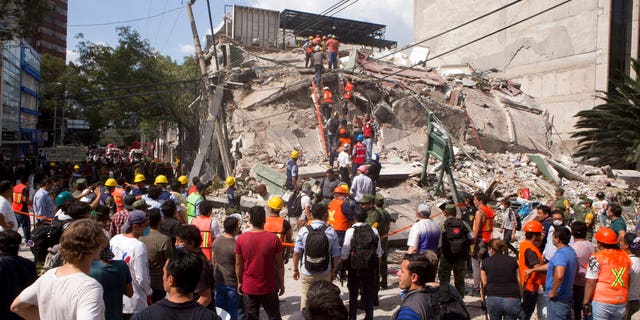 Rescuers were able to find some people alive under the rubble. A child was found under a pile of rubble in the Mexico City school after workers spotted her and yelled at her to move her hand if she could hear them, Foro TV reported. A search dog entered the wreckage and confirmed she was alive.
Most of the deaths have been reported in Mexico City, where at least 94 people were killed, Luis Felipe Puente, head of Mexico's national civil defense agency, said. Another 71 people were killed in Morelos state, 43 in Puebla, 12 in the State of Mexico, four in Guerrero and one in Oaxaca.
The deadly earthquake struck on the 32nd anniversary of the 1985 earthquake that killed 10,000 people. Residents in Mexico had conducted earthquake drills just hours earlier. The earthquake occurred just two weeks after a magnitude-8.1 tremor in the south of the country killed more than 90 people and caused buildings in Mexico City to sway for more than a minute. Nieto called that earthquake the biggest quake the country has seen in a century – until now.
President Trump and Nieto "had a lengthy call" on Wednesday to speak about the tragedy, White House press secretary Sarah Sanders said. Trump tweeted "God bless the people of Mexico City" on Tuesday, after news of the earthquake broke, and added that the U.S. was "with you and will be there for you."
Late Tuesday, Mexico's president issued a video statement urging people to stay calm in the aftermath of the quake. Nieto said many people will need help, but the initial focus has to be on finding people trapped in wrecked buildings.
"The priority at this moment is to keep rescuing people who are still trapped and to give medical attention to the injured people," the president said, adding that 40 percent of Mexico City and 60 percent of Morelos state had no electricity.
The federal government declared a state of disaster in Mexico City, freeing up emergency funds. Nieto said he had ordered all hospitals to open their doors to the injured.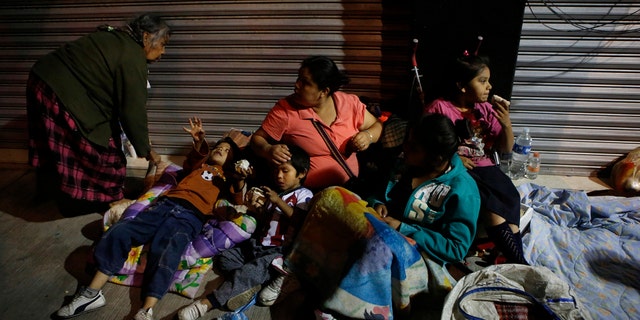 Mexico City's mayor said buildings fell at 44 places in the capital alone, and that 50 to 60 people were rescued. Pictures fell from walls, objects were shaken off of flat surfaces and computer monitors toppled over. Some people dived for cover under desks. Damaged buildings in the capital included the Philippines Embassy, but staffers were unhurt.
At least 70 people who were in the capital were hospitalized, authorities said.
Market stall vendor Edith Lopez, 25, said she was in a taxi when the quake struck. She said she saw glass bursting out of the windows of some buildings. She was anxiously trying to locate her children, whom she had left in the care of her disabled mother.
Gala Dluzhynska, who was taking a class in Mexico City's Roma district, said the building she was in didn't have "any stairs anymore, only rocks," after the quake hit.
Mexico City's international airport tweeted that it had suspended operations following the quake, although it was not immediately clear how many flights have been affected.
Texas Gov. Greg Abbott, whose state recently suffered greatly from Hurricane Harvey, offered his condolences on Twitter and said Texas "will continue to offer any support to aid Mexico in their time of need."
In a statement, the U.S. State Department said the U.S. stands "ready to provide assistance should our neighbors request our help." It added that the U.S. Embassy in Mexico City is also ready to provide assistance to U.S. citizens who were possibly affected by the quake.
Much of Mexico City is built on former lakebed, and the soil is known to amplify the effects of earthquakes even hundreds of miles away.
The Associated Press contributed to this report.