Merkel calls for unity as nearly half of Germans want her gone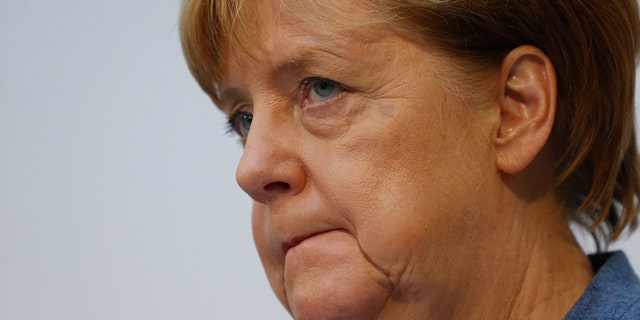 NEWYou can now listen to Fox News articles!
German Chancellor Angela Merkel lamented her country's social divisions in a New Year's address Sunday, but emphasized her commitment to forming a unified government in 2018.
Merkel's comments came three months after her party suffered major blows at the polls, in which the centrist "grand coalition" between the Christian Democratic Union (CDU) and Christian Social Union (CSU), which has run Germany since 2013, fell apart.
Nevereheless, Merkel indicated her willingness to tackle the challenges of the future by forming a new government, which means again reaching out to her former political partners, the center-left Social Democrats (SPD).
Many Germans have expressed concern over the social changes taking place within the country. The most contentious issue has been an influx of asylum-seekers that has caused many conservatives to question her leadership.
A poll released Sunday, revealed that nearly 50 percent of Germans would prefer that Merkel resign immediately.
But in Sunday's speech she pointed to falling unemployment and rapid economic growth as reasons for optimism, and cited among her priorities the need to safeguard prosperity, improve education and the use of digital technology, strengthen families and elderly care, even out regional imbalances and ensure security.
Merkel reiterated the need for Europe to work together and defend its external borders.
Addressing the increasingly tense debate in Germany that's seen some political opponents describe her as a "traitor," Merkel urged her fellow Germans to focus more on what they have in common, and to "respect each other more again."
Talks to form a new coalition government between CDU/CSU and SPD are scheduled to begin Jan. 7.
The Associated Press contributed to this report.